Leominster is set to benefit from reduced carbon emissions thanks to 88 new solar panels.
Situated on the roof of Earl Mortimer College and Sixth Form Centre, South Street, Leominster, home to Leominster Multi-Agency Office (MAO) and Leominster Coningsby Children's Centre, the panels will generate 28,625 kWh per year and deliver an annual carbon reduction of just over 10 tonnes of CO2e / yr.
The installation cost of £17,550 was match funded by a 50% grant from the Sustainable Energy in Public Buildings programme, which is a European Regional Development Fund (ERDF) grant scheme for innovative low carbon measures in public buildings across the Marches.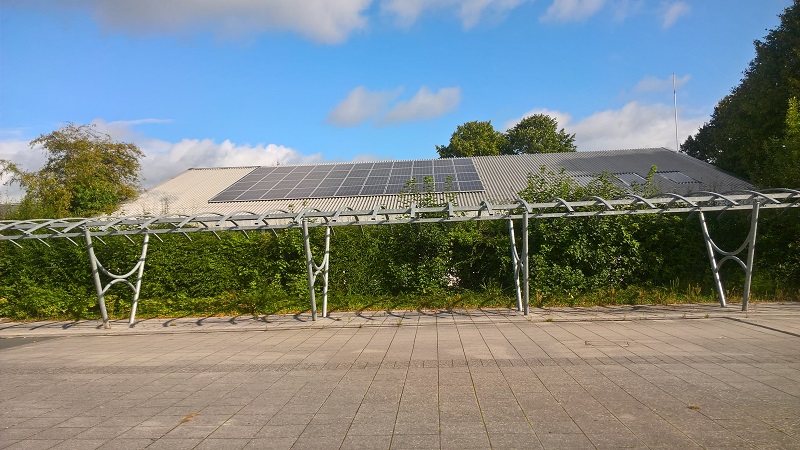 With projected savings to the council of £3,807 every year, this means the installation will repay the council funding within three years.
Cllr Trish Marsh, Cabinet Member for Environment, Economy and Skills, said: "This exciting project is part of a wider programme of carbon reduction projects that are currently underway as part of our strong commitment to tackling the climate emergency. By continuing to invest in projects such as this one we are not only reducing our carbon footprint, but also helping to reduce our running costs and improve local energy security."
The latest Greenhouse Gas Report (2018/19) shows that Herefordshire Council has delivered a 43% reduction in its CO2 emissions. Based on a target reduction of 40% by the year 2020, the council has exceeded this aspiration two years early and illustrated its continued commitment to tackling the Climate Emergency.
For more information on how Herefordshire Council is helping to address climate change, please visit our Climate page.
Published: Wednesday, 11th September 2019