In just the first month after launching its hybrid bike share scheme in the cathedral city, Beryl's distinctive green bikes have been cycled well over 8,000km in Hereford.
To celebrate this success, Beryl and Herefordshire Council are bringing riders a free week of trips across the city. Funded by a grant from the Department of Transport, all rides ending in a Beryl Bay will be free of charge from Monday 9 to Sunday 15 of September. "Hereford Free Week" will enable more residents and visitors to choose a more environmentally-friendly means of transport.
Beryl CEO Phillip Ellis says, "Beryl is extremely proud of the start our bike share scheme has enjoyed in Hereford. 8,000km covered in one month is a positive reflection on the high-quality and safe scheme that is helping people get around Hereford on two wheels."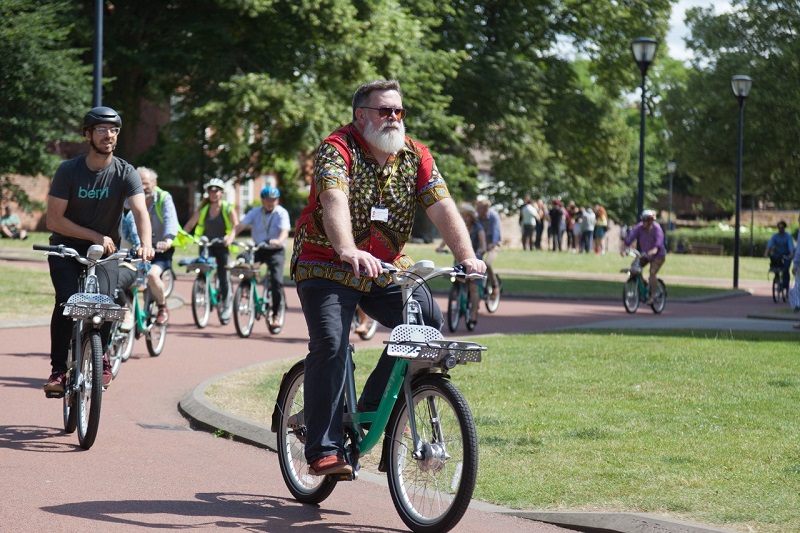 Cllr John Harrington, Cabinet Member for Infrastructure and Transport at Herefordshire Council, expects the Hereford Free Week to encourage even more people to hop on a Beryl bike for commuting or leisure rides. "We are absolutely delighted to announce a week of free cycling with Beryl Bikes," he said.

"It has been one month since its launch, and support for the scheme has been extraordinary, with thousands of Herefordians and visitors already making use of Beryl Bikes for journeys in and across the city, helping to reduce congestion. By using grant funding from the Department for Transport we are offering a week of free rides, of up to 30 minutes, and hope to encourage even more of you to get on two wheels and enjoy being out and about on healthy, active, sustainable transport."
Beryl's hybrid bike share is an innovative scheme where its bikes, that are available to hire through the Beryl app, can be picked up and dropped off in marked 'Beryl Bays'.
Riders have a payment choice of Pay-As-You-Ride (£1 unlock fee + 5p per minute), Minute Bundles (no unlock fee and bundles starting at 100 minutes for £5) or Day Passes (24 hours of unlimited riding for £12). Once their ride is complete, users simply close the lock on the bike to complete their ride and make it available for the next person to use.
For more information on Beryl, please visit
beryl.cc
.
Published: Monday, 2nd September 2019