Richard Gilbert exhibition inspired by previous works from writer Bruce Chatwin and artist Brian Hatton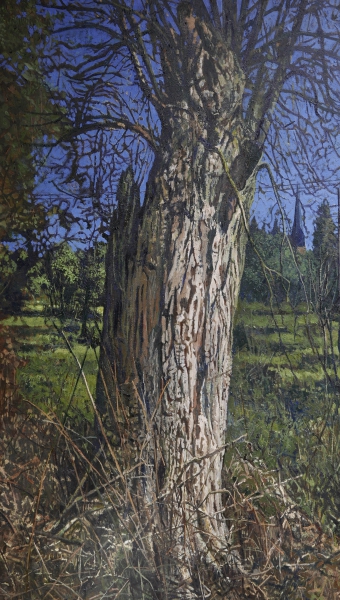 'The Stump' (2015-19) © Richard Gilbert
Hereford Museum and Art Gallery is proud to present 'Common Ground: A journey into Herefordshire' by local artist Richard Gilbert, launching as part of Herefordshire Art Week.
Through his oil paintings, some of which were created specifically for this exhibition, Gilbert explores overlooked or little known locations spanning the whole county, from the Black Mountains in the west to the Malverns in the east, from the ancient trees of Croft Castle in the north to Madley Earth Station in the south. The works celebrate Herefordshire's identity and human landscape together with sites of special scientific interest, such as Lugg Meadows and Bodenham Lake, but also sunken lanes, old ponds and derelict buildings. During h.Art Week, visitors can watch Gilbert create an oil painting of Sutton Walls within the exhibition space.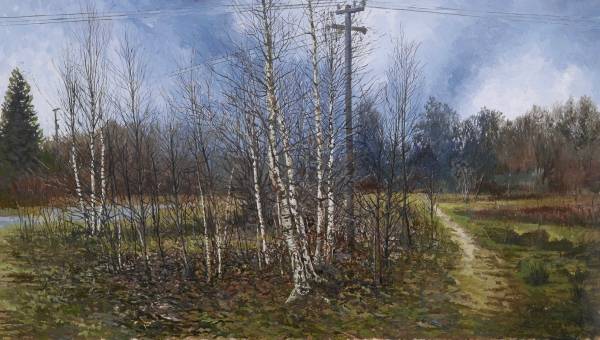 'Bodenham Winter' (2015) © Richard Gilbert
Richard Gilbert said:
"The title 'Common Ground' may simply refer to overlooked patches of ground common in Herefordshire that are shared by all. But the theme also extends to the common ground shared with other artists and writers from the county. I have followed in the footsteps of Bruce Chatwin with a series of works based in the Olchon Valley and literally 'On the Black Hill'. I have also taken inspiration from the Brian Hatton Trail which plots Hatton's painting locations along the Breinton Springs Circular walk. For this exhibition, I have painted modern-day parallel views of the same subjects, such as trees and lanes, a century later. The culmination of this project is 'Brian's Ground' - a 3 metre-wide panoramic painting reflecting on a year in the life of the orchard at Breinton Springs."
As part of the exhibition, Richard Gilbert has curated a selection of Brian Hatton's watercolour landscapes, some of which will be displayed for the first time. The collection is drawn from the museum's Hatton collection and based around the premise of an idyllic Edwardian summer's day shortly before World War 1.
The free 'Common Ground' exhibition is at Hereford Museum and Art Gallery from 7 September to 23 November 2019. The gallery is open Tuesday – Friday 10am – 4pm and 10am – 12.30pm on Saturday.
Keep up-to-date with all Herefordshire Museum Service events on Facebook @herefordmuseums
Herefordshire Art Week runs from 7-15 September, more details at www.h-art.org.uk
Published: Monday, 2nd September 2019