Residents of Herefordshire are being urged not to leave their pet dogs in the car during summer.
Herefordshire Council is working with The Dogs Trust and the British Parking Association (BPA) to back the 'Dogs Die in Hot Cars' campaign, which aims to highlight the dangers of leaving dogs in cars during hot weather and advises the public as to what action to take if they see a dog in distress.
The RSPCA reported 8,290 calls relating to animals and heat exhaustion in 2018 – 90 per cent of which were about dogs in hot cars – including 33 in Herefordshire.
Keeping an eye out for dogs in distress during hot weather and taking appropriate action could be the difference between life and death.
Many people believe it is okay to leave a dog if the windows are slightly open or they park in the shade, but this is still very dangerous. A car can quickly become extremely hot, even when it doesn't feel that warm – if it's 22℃ outside, the inside of a car can reach up to 47℃ within an hour.
If dogs are too hot and unable to reduce their body temperature by panting, they risk developing potentially fatal heatstroke. The signs of heatstroke include:
Heavy panting
Excessive drooling
Appearing lethargic, drowsy or uncoordinated
Collapse or vomiting
If you notice a dog exhibiting these symptoms, or if you are concerned about the welfare of a dog in a car for any other reason, please call 999 immediately.
Herefordshire Council's Civil Enforcement Officers patrol and monitor to ensure dogs have not been left at risk. As well as intervening with the vehicle owners, they are also instructed to contact the police if they notice a dog in serious risk of harm.
Mike Francis, a Civil Enforcement Officer for Herefordshire Council, explained a recent encounter he had with a dog who was suffering as a result of being locked in a hot car.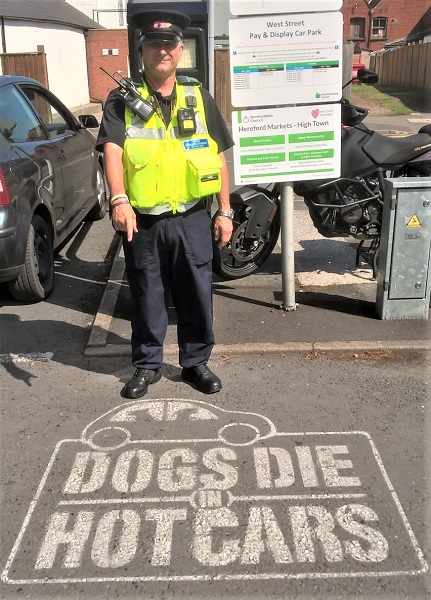 "I was patrolling on Gloucester Road in Ross-on-Wye on Thursday 4 July when I was approached by a member of public who informed me that there was a dog left unattended in a car in the Maltings Car Park and the dog looked very distressed. They were especially concerned as it was a hot day. As we support the 'Dogs Die in Hot Cars' campaign, which aims to make people aware of the risks of leaving dogs in cars on warm days, I made my way across to the car park.

"I located the vehicle and a small Jack Russell type dog was panting very heavily in the car and appeared to be very agitated. The windows were slightly open but as I was concerned for the dog's welfare I contacted the police immediately. Whilst I was on the phone the driver returned back to the car and drove off.

Even though, on this occasion, the dog survived, it could very easily have not been so lucky. I would urge people to please, no matter how brief you think you'll be or how acceptable you consider the heat to be, do not leave your dog in a car. If you do, it could be the last time you see them alive."
For more information please visit the Dogs Trust website or the British Parking Association website.
Published: Wednesday, 24th July 2019