Meet with crematorium team who will be on hand to answer any of your questions about Hereford crematorium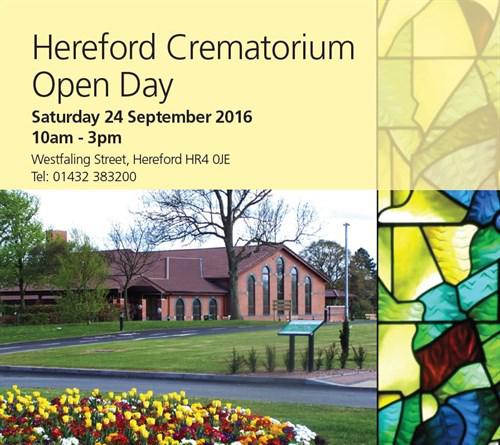 The Hereford crematorium open day is an opportunity to meet with the friendly and helpful crematorium team who will be on hand to answer any of your questions and help allay any fears and providing reassurances about what happens behind the curtain.
When faced with bereavement it can be a very distressing time for those involved and people often don't know which way to turn, the team will be providing guided tours of the crematorium to help dispel the many myths and quell peoples' fears surrounding the cremation process.
For people who are thinking ahead and beginning to make plans for their own funerals in advance, the open day provides the opportunity to meet representatives from the many services involved.
There will also be the opportunity to talk to a number of services who can offer guidance and support during times of loss, including bereavement counselling, registrar, independent celebrant, funeral directors, green burials and monumental masons.
Refreshments will be available throughout the day in the waiting room next to the crematorium chapel, these are being provided by Kelly from The Chapel Florist and Tearooms in the grounds.
For more information on the crematorium and the services available, please visit the crematorium website.
For more information on the open day on Saturday 24 September from 10am to 3pm, please contact the crematorium team on 01432 383200 or bereavement@herefordshire.gov.uk.