County shows support for past, present and future Armed Forces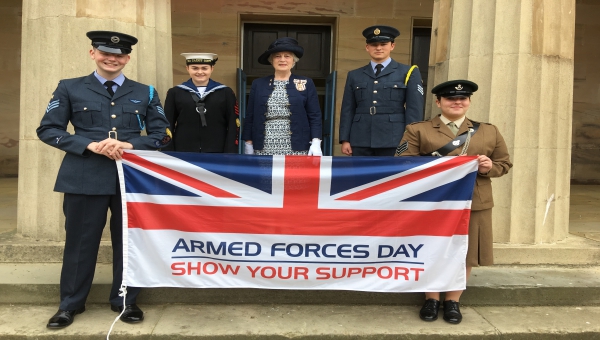 Her Majesty's Lord Lieutenant of Herefordshire, The Dowager Countess of Darnley CVO, and the Lord Lieutenant's Cadets © Herefordshire Council
Armed Forces Week 2019 launched on Monday 24 June with flag raising across the county and now the attention turns to Armed Forces Day 2019 on Saturday 29 June.
In Hereford from 10am, High Town will be a hive of activity with stalls and a market in celebration of the Armed Forces. Hereford City Council will present the city's silver and City Charters dating back to 1189 for public display at the Town Hall (10am – 3pm).
A Spitfire flypast is planned (weather permitting) for 1.30pm with Herefordian Flight Lieutenant Andy Preece as pilot. There will be three passes over Hereford in a Mk 19 Spitfire which was used for photographic reconnaissance. The Griffon engine enables the Mk 19 Spitfire to fly higher than the air defence versions of the aircraft. Flight Lieutenant Preece will then proceed to the national Armed Forces Day event in Salisbury where he will join a flypast from the Battle of Britain Memorial Flight.
From 3.30pm, The Rifles Regiment will exercise their Freedom of Hereford as they march through the city (beginning at Shire Hall). Hereford commemorations will then conclude at Suvla Barracks, where dignitaries will attend 'Sounding the Retreat'.
Elsewhere in the county, Ledbury will raise a flag to the Armed Forces at 10am. The Rifles Regiment will exercise the Freedom of Leominster – starting at 11am from The Grange and then marching through town to Corn Square. In Queenswood Country Park at 1pm, there will be a dedication of First World War Centenary Memorial Woodland.
Sunday 30 June in Bullinghope will see a procession and picnic which will culminate in a memorial dedicated to the efforts of the Rotherwas Munition Factory workers. The procession begins at St Peter's Church (Bullinghope) at 11.15am.
For full details of Armed Forces Day events, visit www.herefordshire.gov.uk/armedforcesday
Published: Wednesday, 26th June 2019