A week-long programme of events will mark the county's support for past, present and future Armed Forces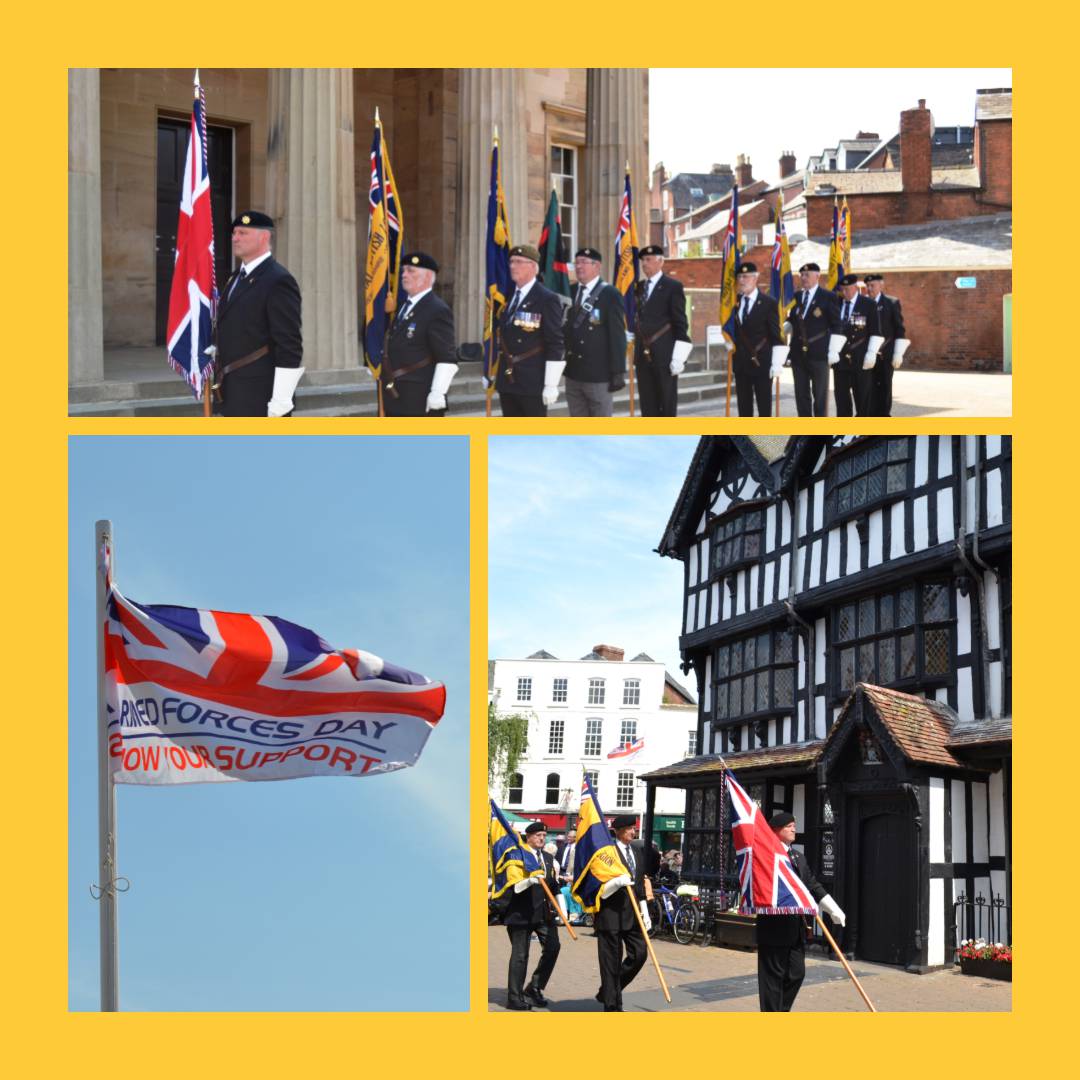 Armed Forces flag raising in Hereford © Herefordshire Council
Armed Forces Week 2019 begins on Monday 24 June and will be launched by flag raising across the county:
Bromyard Heritage Centre at 9am / Halo Centre Memorial Garden at 9.15am
Ross-on-Wye Market Place at 10am
Leominster Town Council Offices 11am
Hereford High Town 11am
Armed Forces Week is a national celebration of the contribution made to our country by those who serve and have served in Her Majesty's Armed Forces. The week gives everyone an opportunity to show support for the men and women who make up the Armed Forces community - from currently serving troops to service families and from veterans to cadets.
In Hereford, there will be performances by 80 school children and representatives from the tri services, veterans and military charities. Later in the week, The Courtyard will host a programme of lectures and films Tuesday 25 – Wednesday 26 June, culminating with Peter Jackson's 2018 documentary 'They Shall Not Grow Old'. Full details and tickets are available from the Courtyard website.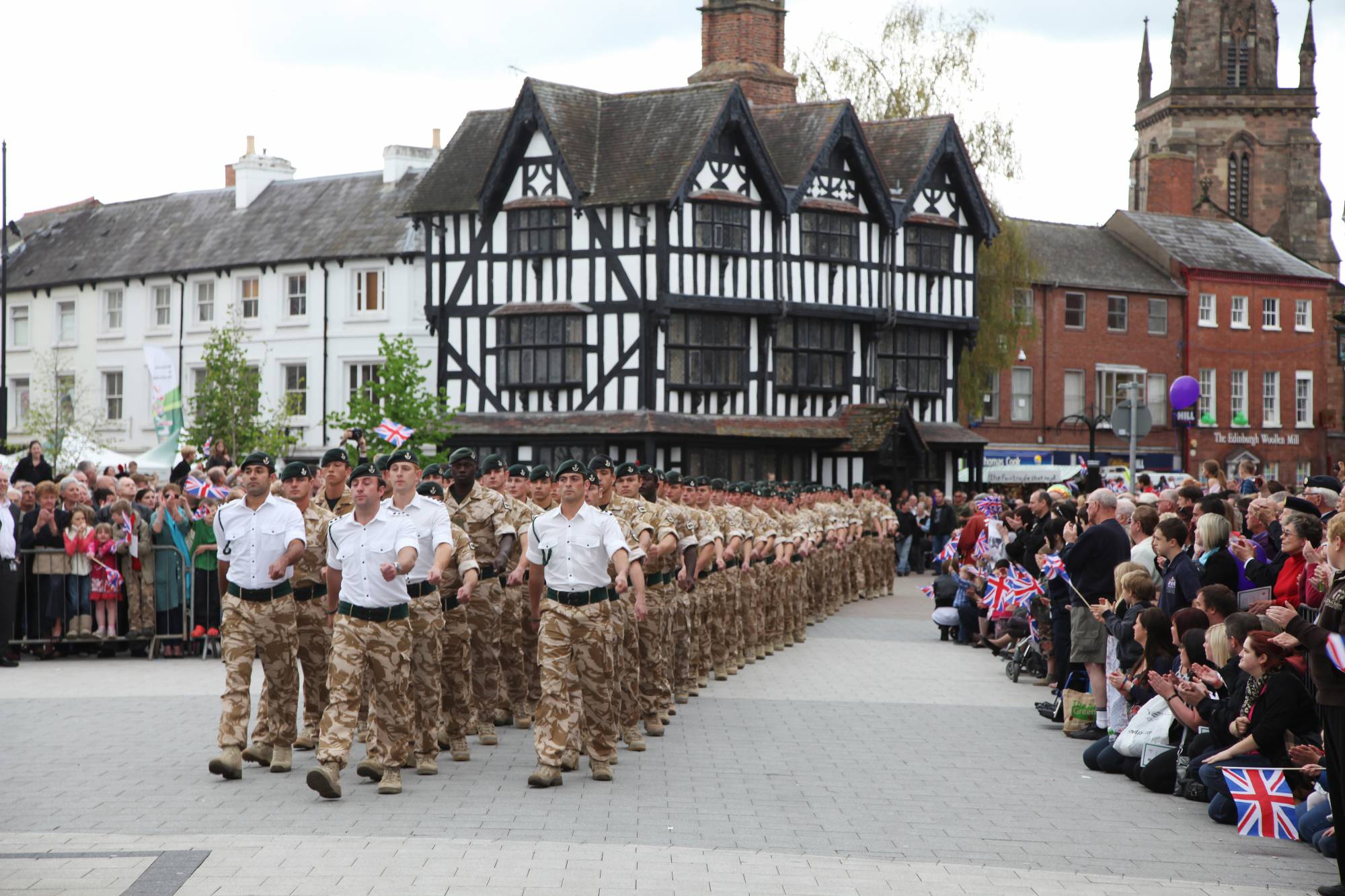 The Rifles Regiment homecoming parade © Herefordshire Council
Armed Forces Day - Saturday 29 June
In Hereford from 10am, High Town will be a hive of activity with stalls and a market in celebration of the Armed Forces. Hereford City Council will present the city's silver and City Charters dating back to 1189 for public display; this will be at the Town Hall 10am – 3pm. There will be a Spitfire flypast (weather permitting) around 1.40pm and The Rifles Regiment will exercise their Freedom of Hereford as they march through the city, beginning at 3.30pm from Shire Hall. Dignitaries will attend 'Sounding the Retreat' at Suvla Barracks which will conclude the Hereford commemorations.
Elsewhere in the county, Ledbury will raise a flag to the Armed Forces at 10am. The Rifles Regiment will exercise the Freedom of Leominster – starting at 11am from The Grange and then marching through town to Corn Square. In Queenswood Country Park at 1pm, there will be a dedication of First World War Centenary Memorial Woodland.
Sunday 30 June in Bullinghope will see a procession and picnic which will culminate in a memorial dedicated to the efforts of the Rotherwas Munition Factory workers. The procession begins at St Peter's Church (Bullinghope) at 11.15am.
Chairman of Herefordshire Council, Councillor Sebastian Bowen said:
"Armed Forces Week will be marked by events across the county as we show our support for the men and women who make up the Armed Forces community. We want families, communities and organisations from across Herefordshire to show their support and get involved, whether it is attending one of our organised events or throwing a local party."
Follow @AFCHerefordshire on Facebook for details of Armed Forces Week events or visit www.herefordshire.gov.uk/armedforces
View the full Armed Forces Week programme
Published: Thursday, 13th June 2019