Hereford Crematorium this week handed over a cheque for £8,000 to Marie Curie.
The donation was possible thanks to a national metal recycling scheme that has allowed the Crematorium to donate over £70,000 to local charities since 2011.
The Institute of Cemetery and Crematorium Management (ICCM) launched their metal recycling scheme in 2005 as a way to recycle the metal recovered from cremated remains instead of burying them. Participating crematoria are asked to nominate a local bereavement charity to be given a share of surplus monies from the recycling process each year.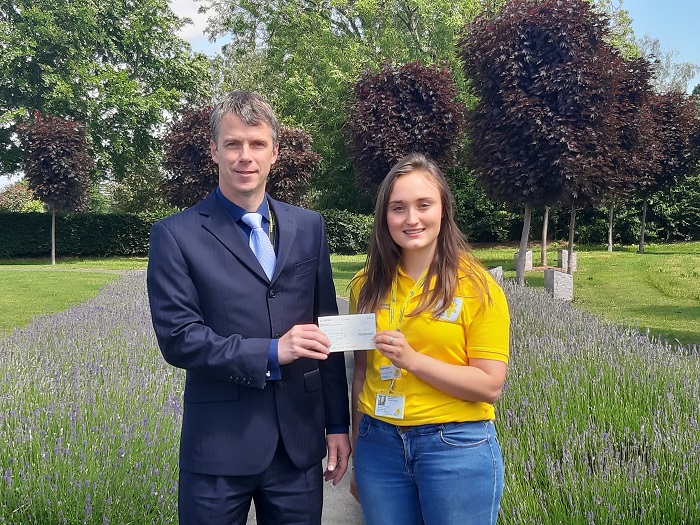 The service is provided at no cost to crematoria who have signed up to the scheme and metals are not recycled without the next of kin's permission, which is sought at the time of the funeral arrangements.
Sarah Harris, Marie Curie Community Fundraiser for Herefordshire and Gloucestershire, said:

"Receiving this incredible donation will be an invaluable help to us continuing to provide care and support to people living with a terminal illness within Herefordshire. Whether that be from our hands on care or our free information and support line reaching those across Herefordshire, we aim to ensure everyone living with a terminal illness has the right care and support when they reach the end of their lives.

We are so incredibly grateful for being chosen to receive this donation and are so thankful to Herefordshire council."
Since November 2011, this scheme has so far raised £76,624 for local charities including the ELY Memorial Fund, The Haven, Cruse Bereavement Care, St Michael's Hospice, Sands – The Born sleeping Appeal, Home Start, Phoenix Bereavement Support Services, Winstone's Wish and Rocky Lee's Little Feet.
John Gibbon, Herefordshire Council Direct Services Manager, said:

"It is a pleasure to present this cheque for £8,000 to Marie Curie, which will help their vital work to provide care and support for people living with terminal illness, and their families.

"Hereford Crematorium has so far donated £76,624 through the scheme thanks to the incredible generosity and compassion of bereaved families following the cremation of their loved ones.

"Charity nominations are accepted all year round, so I would encourage local, bereavement-related charities to contact Hereford Crematorium at bereavement@herefordshire.gov.uk or telephone 01432 383200 to register their interest."
For further information please visit the Herefordshire Council website.
Published: Friday, 7th June 2019