Children given their own bedtime story to take home at Pyjamarama events across the county's libraries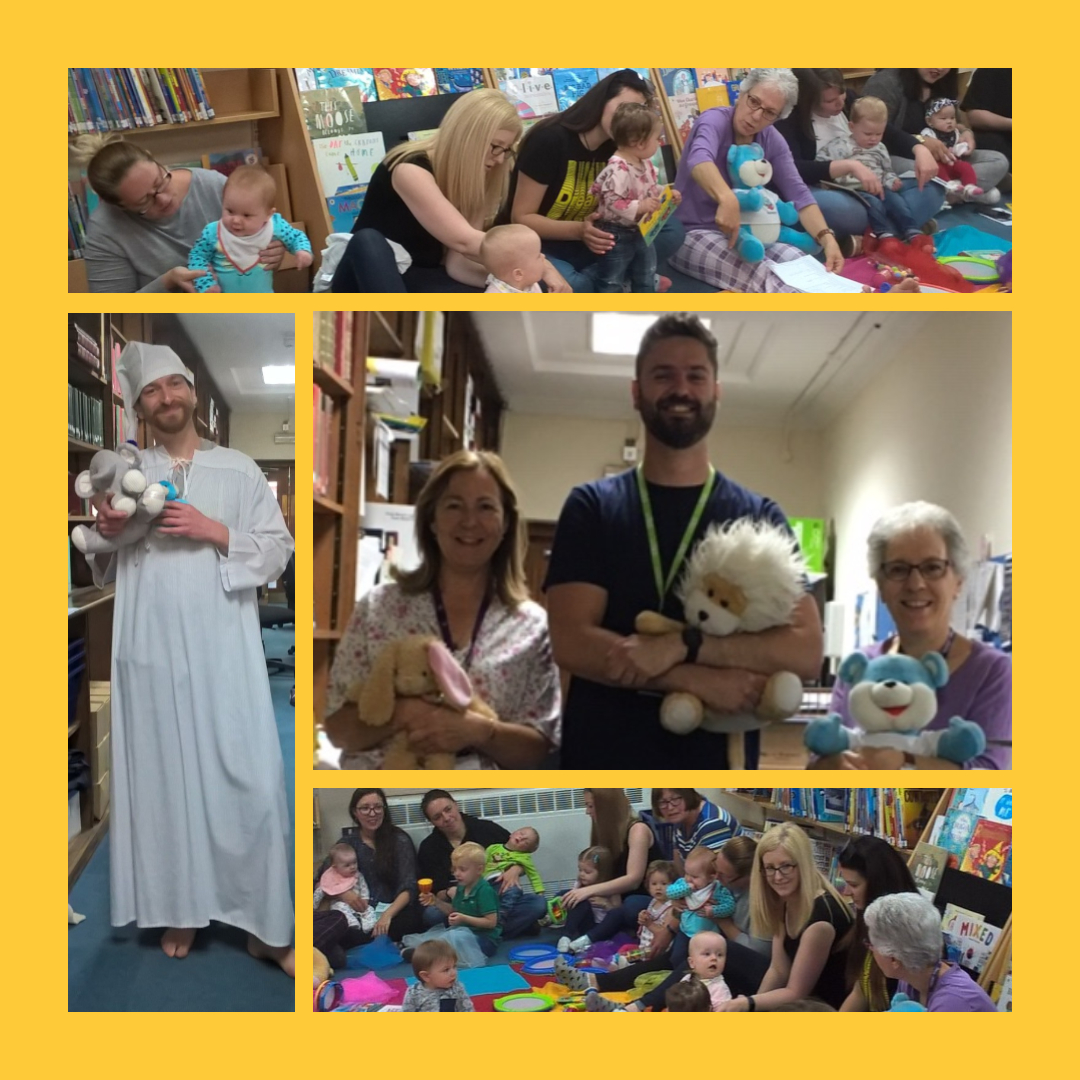 Families enjoy the Story & Rhyme pyjama party at Hereford Library
Families jumped into their PJs and visited their local library this week to celebrate 'Pyjamarama', BookTrust's inaugural celebration aimed at getting children reading.
As part of Pyjamarama (Monday 3 - Friday 7 June), Herefordshire Libraries worked with BookTrust to give out free copies of the picture book 'Car, Car, Truck, Jeep' by Katrina Charman and Nick Sharratt (Bloomsbury Children's Books) - ensuring as many children as possible have their very own story to read before bed.
Children and families took their dressing gowns, cushions and favourite cuddly toy to their local Story & Rhyme sessions to celebrate and share the magic of reading for children. Hereford Library staff even wore their own pyjamas to Story & Rhyme, with supervisor Jon Backhouse appearing as Wee Willie Winkie with a costume donated by Hereford's Fancy Pants costume hire shop.
Jon said:
"Pyjamarama has been a wonderful chance to celebrate the importance reading. Over 40 children and 40 parents came to the sessions in Hereford alone and it was brilliant to see the children leave with their very own bedtime story. Sharing a story at bedtime gives extra time for bonding and cuddles and gives a real boost to a child's early language development."

Over 1 in 4 children in the UK aged between 0 and 5 are not read to regularly. This means over 1.4 million children are missing out on the vital benefits of regular reading in the early years.
Diana Gerald, Chief Executive of BookTrust said:
"We are thrilled that communities around the UK have had such a fun time participating in Pyjamarama in its first year. The magic of books and reading is a wonderful experience which every child should benefit from and we're so glad to be getting so many children reading. Books let children use their imagination to dive into adventures whilst also promoting discussion about wider topics. Reading for pleasure directly benefits children in so many ways, from language development to doing better at school. We can't wait to continue the pyjama fun for years to come."
Follow @HfdsLibraries on Facebook for information about all upcoming library events.
Published: Friday, 7th June 2019