Community penalty imposed following a January raid which seized around 31,000 illegal cigarettes
A shop owner and employee have received a community sentence for their involvement in the sale of illegal and counterfeit tobacco in a case taken to Hereford Magistrates' Court on Wednesday 8 May 2019 by Herefordshire Council's Trading Standards.
The owner of Europe Quality Food (Brookend Street, Ross-on-Wye) Mr Kosar Othman Mohammed, (39) of Cranemoor Close, Birmingham and his employee Mr Karwan Kamil Salh (19) of Livingstone Road, Handsworth pleaded guilty to charges of sale and possession for sale of illegal and counterfeit tobacco.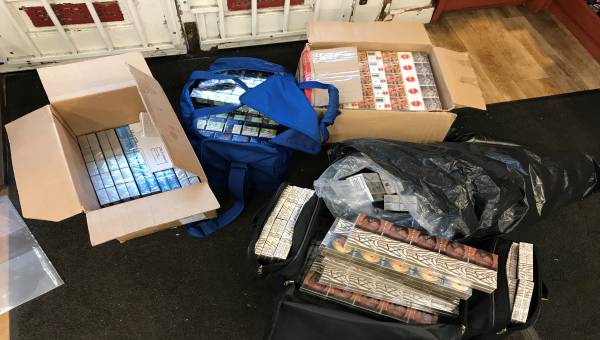 Seized illegal tobacco from Europe Quality Food, Ross-on-Wye © Herefordshire Council
The court heard that Herefordshire Council's Trading Standards and West Mercia Police worked in partnership to carry out a targeted operation at the premises on Saturday 5 January 2019. Trading Standards seized around 31,000 illegal foreign non UK-duty and counterfeit cigarettes.
The magistrates viewed the matter as serious and handed down community penalties to Mr Mohammed and Mr Salh of 240 and 180 hours unpaid work respectively. Both men were ordered to pay £983 each in costs.
Europe Quality Food is currently subject to a three month closure notice which was imposed by Hereford Magistrates Court on Tuesday 7 May 2019. Breaching a closure order is a criminal offence, and anyone that attempts to access the address could be arrested.
The sale of illegal tobacco seriously damages honest local business and the cheap availability of illegal cigarettes makes it easier for young and underage people to become addicted. Members of the public are urged to contact Trading Standards on 01432 261761 if they have information regarding the sale of illegal tobacco within Herefordshire.
Published: Friday, 10th May 2019