The raid found tobacco duty evasion to the value of £18,838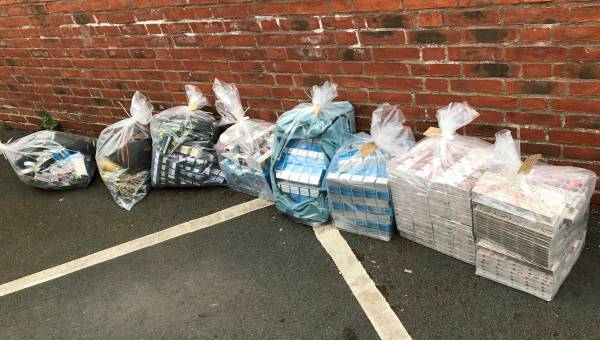 Seized illegal tobacco from Europe Quality Foods, Ross (c) Herefordshire Council
Officers from Herefordshire Council's Trading Standards and West Mercia Police worked in partnership, with assistance from Hereford and Worcester Fire and Rescue Service, to execute a search warrant at Europe Quality Food store on Brookend Street, Ross-on-Wye on Tuesday 23 April 2019.
On the shop premises a bag was found with 134 packets of illegal cigarettes and 36 pouches of illegal hand rolling tobacco. In the car park opposite the shop, an associated vehicle contained 1761 packets of illegal cigarettes and 254 pouches of illegal hand rolling tobacco.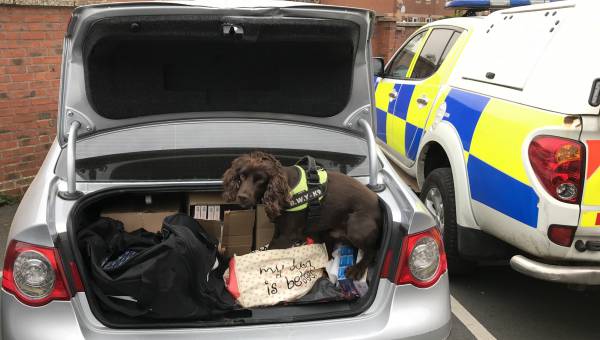 Car containing seized illegal tobacco from Europe Quality Foods, Ross (c) Herefordshire Council
The total seizure connected to Europe Quality Foods was 37,900 cigarettes and 14.5kg of hand rolling tobacco. All the tobacco products seized were non UK duty paid and a large proportion were counterfeit. The duty evasion from this seizure came to the value of £18,838.
An earlier targeted raid on Europe Quality Foods (5 January 2019) seized 31,000 illegal cigarettes. Following a history of persistent criminality at the premises, West Mercia Police immediately served a closure notice. At Hereford Magistrates' Court yesterday (24 April 2019) the shop was ordered to stay closed pending a full court hearing on 7 May 2019 where court will have the power to issue a full three month closure order.
The sale of illegal tobacco from such retail premises seriously damages honest local business. Members of the public are urged to contact Trading Standards on 01432 261761 if they have information regarding the sale of illegal tobacco within Herefordshire.
Published: Thursday, 25th April 2019