The fairground rides, vibrant entertainment, food stalls and ancient customs of the May Fair will once again delight residents of Hereford and Leominster this spring.
The Hereford May Fair is almost 900 years old, while the Leominster Fair can be traced back to the 17th century, and both events attract thousands of residents and visitors every year.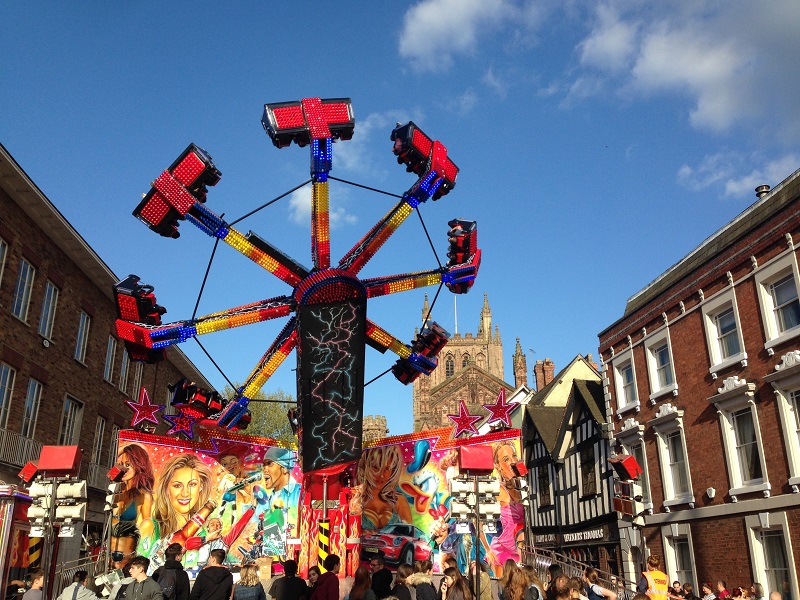 The Hereford May Fair takes place on the first Tuesday to Thursday following the May Day bank holiday. In 2019:
Tuesday 7 May, from 3.45pm (opening ceremony on Cathedral Close from 3.30pm)
Wednesday 8 May, from 12noon
Thursday 9 May, 12noon
Dean Deakin, Chairman of the South Wales and Northern Ireland Section of The Showman's Guild, said:

"Once again we are proud to present Hereford's annual May Fair arriving Bank Holiday Monday 6 May when we start setting up from 6pm. A warm welcome awaits when you join us at this historic and impressive traditional fun fair. Showmen from all over the UK will provide excitement, fun and laughter from riding the heart-stopping white knuckle rides to bumper to bumper fun, not forgetting the thrills of the children and traditional rides. From rides to stalls we have it all, including some new attractions for 2019!"
The Leominster May Fair takes place on the Thursday to the Saturday before the May Day bank holiday. In 2019:
Thursday 2 May, from 4pm
Friday 3 May, from 12noon
Saturday 4 May, from 12noon
There will be a series of road closures to enable the Fairs to be held safely, and the council would like to thank drivers in advance for their patience and consideration during the period of the fair.
Any queries in relation to road closures should be directed to Herefordshire Council on 01432 261800 or please use our online form to contact us via www.herefordshire.gov.uk/contactus
Hereford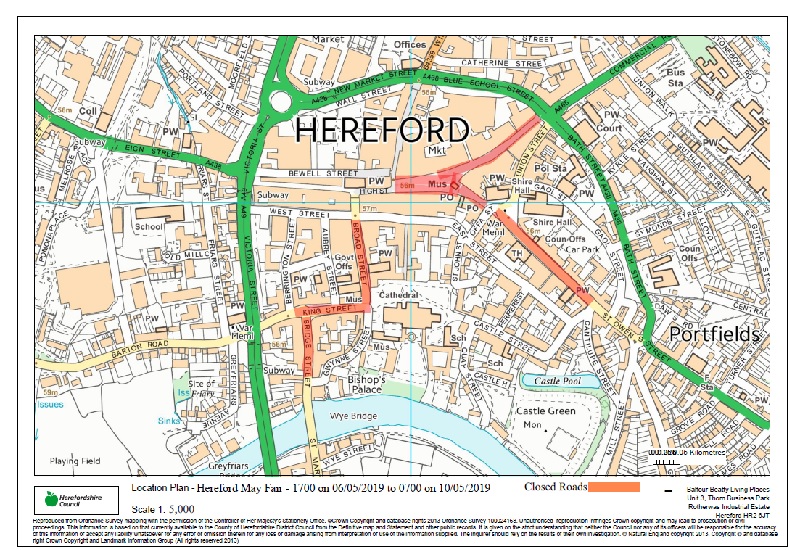 The roads to be closed to traffic will be:
Commercial Street
High Town
St. Peters Street
St. Owen Street
Broad Street (below junction of West Street and East Street)
King Street and Bridge Street
Some parking/loading/unloading areas will also be closed in Union Street and in the streets mentioned above. Closure times will be from 5pm on Monday 6 May through to 7am on Friday 10 May.
In addition, Widemarsh Street (from its junction with Blueschool/Newmarket Street) and High Street will be closed to traffic from 4.30pm to 11pm on the evenings of 7, 8 and 9 May. This will make High Street a safer pedestrian area for fair goers.
All of these streets will be accessible to emergency vehicles.
Advance warning signs will be on all routes leading towards the city centre advising of the closures.
As in previous years, diversion routes will not be signposted as, with so many possible permutations, such signing would be too confusing for motorists, especially visitors to the city.
All of the other city centre roads will operate as near normal as possible.
All of Gwynne Street will be two-way and motorists are asked to take extra care if using this route
There may also be additional congestion for traffic using St Martins Street for access onto the A49 during the period of the fair.
Herefordshire Council urges drivers to be patient and considerate on the roads during the period of the fair.
Leominster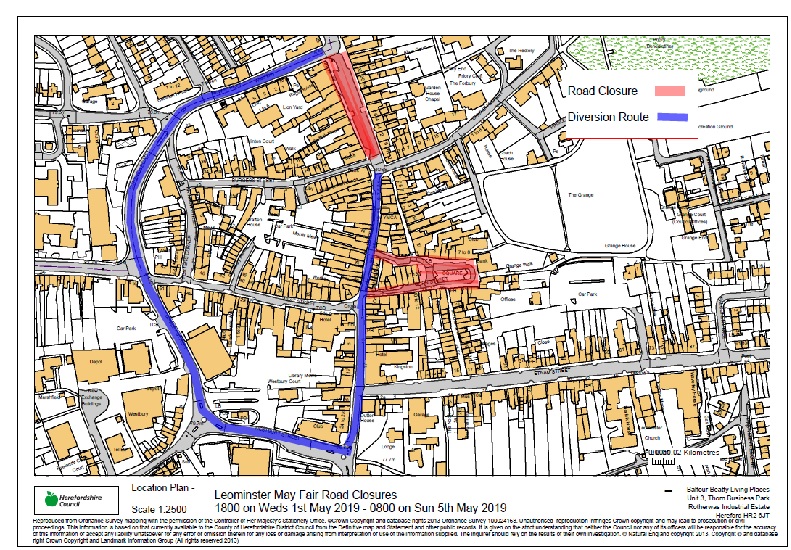 The roads to be closed to traffic will be:
Broad Street from its junction with Burgess Street/Church Street to its junction with New Street
Corn Square
Victoria Street from its junction with High Street to Corn Square
Corn Street from its junction with High Street to Corn Square
All between 6pm approximately on Wednesday 1 May 2019 to 8am approximately on Sunday 5 May 2019.
Published: Tuesday, 23rd April 2019