Inspections of Holme Lacy and Stoke Lacy bridges in Herefordshire have indicated that both structures require significant maintenance work. Schemes are currently being developed, with work on site expected to take place this summer.
Herefordshire Council, in partnership with Balfour Beatty Living Places, is responsible for maintaining the safety of more than 700 road and foot bridges across the county.
During 2018, we completed 446 bridge inspections - an average of 37 every month.
Through a regular programme of safety inspections, which includes examining all surfaces of the bridge, its foundations and the surrounding environment, the council develops a programme to identify bridges that require maintenance, repair or replacement each year.
Stoke Lacy Bridge, situated on the A465 at the bottom of Stoke Lacy Hill, requires strengthening work to ensure it can continue to meet the demands of modern-day traffic. This will require workers to dig down to the original arch of the bridge and install a new concrete 'saddle' before resurfacing it. The A465 over the bridge will need to close for the duration of the works, which are expected to begin in July or August 2019 and take approximately eight to ten weeks to complete.
Holme Lacy Bridge, which is situated on the B4399, needs the bearings at its west end replacing. The bridge would then have new expansion joints installed and be resurfaced. Work is expected to commence in the summer and will also take a number of weeks to complete. While the majority of the work will be completed under temporary traffic lights, enabling a lane across the bridge to remain open, some closure periods, each lasting several days, will be unavoidable.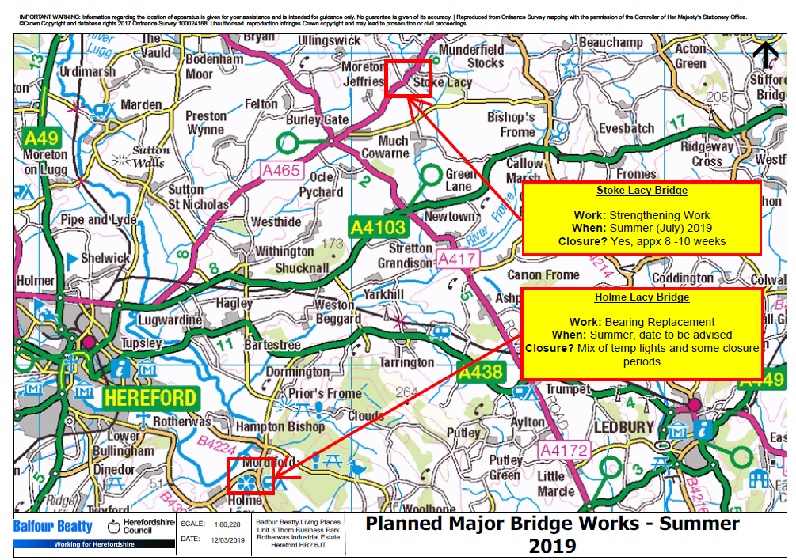 Local residents and businesses around both locations will receive letters later this month informing them of likely work this summer and reasons for it. There will inevitably be delays and inconvenience at both sites while work is undertaken.
Clive Hall, Acting Assistant Director for Highways and Transport at Herefordshire Council said:

"We understand that any closure or reduction in traffic flow will be unwelcome but, by alerting local residents and businesses early, we hope to provide communities every opportunity to share their views and suggestions. We will consider these as we develop our plans.

"Both bridges sit on busy roads and are used by thousands of people every week. We need to ensure that they can continue to serve road users for decades more to come as we currently are at Storesbrook Bridge, near Ledbury, where we have delivered a new bridge that will serve road users for generations to come.

"We will provide further updates on planning for work at both locations via our social media – Twitter and Facebook – as soon as information becomes available and we will, of course, write to residents when precise dates and diversion arrangements are known. In the meantime I would ask anyone with comments, questions or suggestions to forward them to our Highways Customer Services Team."
To contact our Customer Services Team, please call 01432 261800.
Published: Wednesday, 20th March 2019