Litter pickers across Herefordshire are gearing up for the Great Herefordshire Spring Clean.
Over £1million is spent on cleaning up litter in Herefordshire each year, and a network of 150 litter picking groups and individuals contribute to the effort to keep our county clean. Over 500 local businesses have also signed the Stop the Drop Litter Pledge, committing to keeping their premises and surrounding areas free of litter.
Herefordshire's Stop the Drop Campaign Steering Group, comprising representatives from a number of litter picking groups and Herefordshire Council is now calling on local people to come together in the fight against litter by playing their part in the Great Herefordshire Spring Clean, which runs from 22 March – 23 April, as part of the Great British Spring Clean.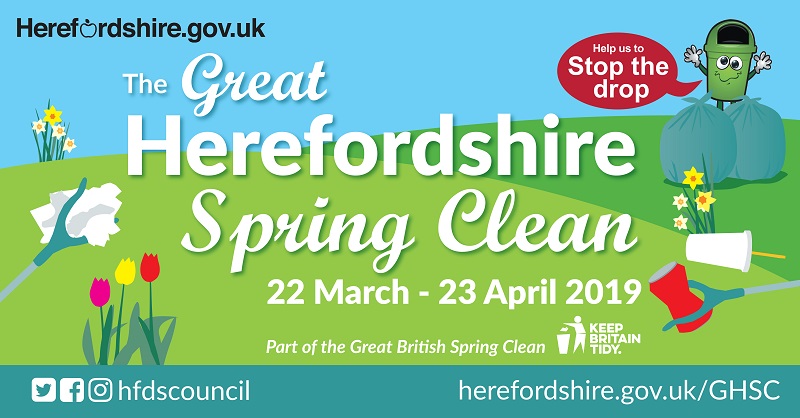 In addition to our year-round support, the council has a range of free coloured bags for litter pickers taking part in the Spring Clean, and a network of special collection points for convenient disposal of litter.
We supply litter picking equipment, including our new coloured bags, and comprehensive information and support for volunteers can be found at www.herefordshire.gov.uk/stopthedrop
You can also use our website to find your nearest litter pick from the 25 community litter picking groups across the county.
Marc Willimont, Herefordshire Council Acting Assistant Director for Regulatory Environment and Waste, said:
"There is a wonderful network of hardworking groups and individuals committed to tackling litter across Herefordshire, and the Great Herefordshire Spring Clean is a great opportunity for us all to work together. We would love to hear from local people who care about keeping our public spaces litter-free and there is a range of support and resources available to help, including our special new violet coloured bags, which are available free of charge to anybody taking part in the Great Herefordshire Spring Clean.

"I would encourage people to get involved, or to contact us to find out more about how everybody can play their part in keeping Herefordshire clean."
Jill Scamell, Ross Community Clean Up Crew and member of the Stop the Drop campaign, added:
"Ross community litter clean up crew would love to see you at either one of their organised events or going solo during The Great Herefordshire Spring Clean. We are excited that in partnership with community groups across Herefordshire and Herefordshire Council, the Great Herefordshire Spring Clean will see the launch of new purple bags especially for community litter groups. We hope the bags will raise awareness of just how many of us are taking pride in our communities.

"Volunteering helps you connect with others, it improves lives and strengthens communities but most important is the intangible benefits of pride, satisfaction and accomplishment."
Please let us know if you'll be taking part in the Great British Spring Clean by emailing stopthedrop@herefordshire.gov.uk or telephoning 01432 383150