Herefordshire Council and Wye Valley NHS Trust are urging residents to return borrowed equipment so they can be reused by other patients
Herefordshire Council and Wye Valley NHS Trust are urging residents to return unwanted equipment so they can be reused by other patients, as part of a Hand it Back campaign.

The Hand it Back campaign was created because there are millions of pounds worth of equipment on loan in the community, some of which may no longer be needed or used.

Each year walking frames, wheelchairs, crutches, beds, chairs and other equipment is often discarded by people who no longer have a need for them. Many unwanted items sit in corners of a room, in cupboards or in the back of garden sheds and outbuildings or they are sold in charity shops and at car boots sales, when they could easily be recycled for another resident to use, where it's safe to do so.

Many items are often only used once and then thrown away with the household refuse or taken to the Household Recycling Centre (HRC). This is of particular concern at a time when people are increasingly aware of the impact of waste on the environment. Returning equipment means that thousands of items will be found new homes instead of ending up in landfill.

Re-issued equipment not only saves on the cost of replacement, but also helps more people to maintain their independence and may mean they can stay in their own home, instead of being admitted to hospital or a care home.

Returning unwanted equipment is really easy. If you, or a relative or friend, has equipment supplied by Herefordshire Council or the NHS (via NRS Healthcare) that they no longer need, simply choose one of the following options for a free return:
Call NRS Healthcare on 0300 100 0045 to arrange collection
Email NRS Healthcare at enquiries@herefordshire.nrs-uk.net to arrange collection
Alternatively, return the item directly to the NRS Healthcare depot at Unit 3a, Thorn Business Park, Rotherwas, Hereford, HR2 6JT. The depot is open between the hours of 9am and 5pm from Monday to Friday
The free collection service does not apply to walking aids. These items can be returned to the physiotherapy department at any hospital in the county or taken to NRS Healthcare at Rotherwas.
Please ensure items are in a clean condition before returning.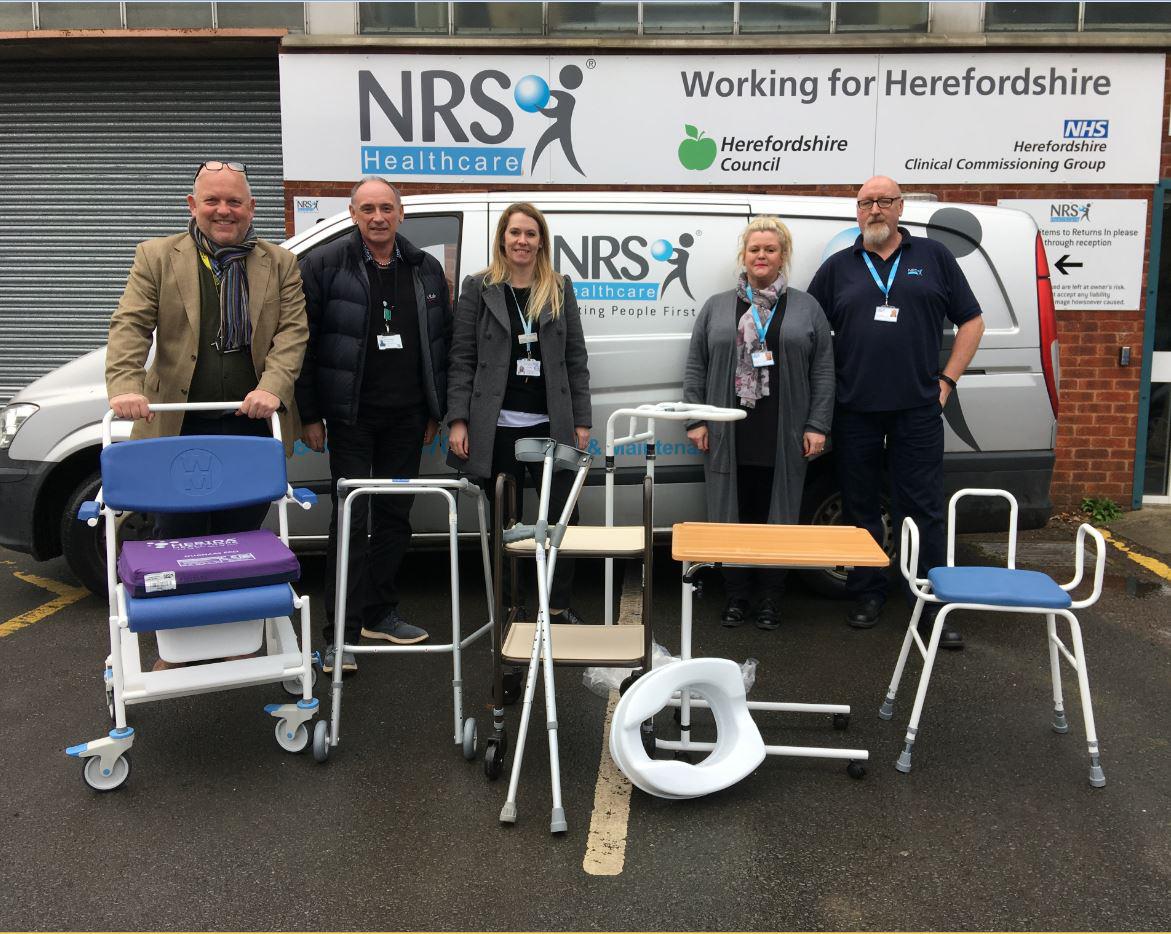 Councillor Paul Rone, Cabinet Member for Health and Wellbeing added: "There are thousands of pieces of equipment out there in the community that could be reused by someone in need.

"I am urging residents to take a few minutes to look around their homes and their sheds and outbuildings to look for borrowed equipment with the NRS Healthcare barcode on it and to encourage relatives and friends to do the same.

"If people have an elderly relative it can be worth having a conversation with them to find out if they have any items lying around the house that should be returned.

"Unfortunately the cost of replacing unreturned equipment ultimately falls to the local taxpayer, but these costs can easily be reduced if residents make sure that borrowed equipment is returned as soon as it's no longer needed."
Jo Burns, Clinical Manager for Physiotherapy at Wye Valley NHS Trust, said: "We've launched this campaign to call on former patients to return much needed equipment in order to save thousands of pounds. We ordered 6,300 walking aids last year to be loaned to patients with mobility issues at a cost of nearly £56,000. This equipment has been loaned to patients, but sometimes people don't realise it can be re-used. So if your equipment is no longer needed or used please 'hand it back' and help us replenish our stocks for other patients and save the NHS money."