Jesse Norman MP praises impact of additional £5.1 million investment in county's roads
The Minister of State for Transport, Jesse Norman MP, visited Hereford on Friday (25 January) where he lauded the benefits of an additional £5.108 million Department for Transport investment, which is already improving roads across the county.
The money will allow the council, working in partnership with Balfour Beatty Living Places, to improve the condition of more than 50 B, C and U class roads in the county.

The Minister's visit began with a presentation delivered by Cabinet member transport and regulatory services, Cllr Barry Durkin and the council's head of highways, Clive Hall, at the highways depot in Rotherwas. The presentation outlined how the additional £5.108 million is being invested, along with an explanation of Herefordshire's sector-leading asset management systems and infrastructure.
The group was then shown how state-of-the-art technology is being used by Herefordshire Council and BBLP to deliver road improvements in the county, including a demonstration of a sophisticated Velocity patcher at work. Finally, the Minister was shown the programme of repairs being carried out to one of the more than 50 B, C and U class roads that will benefit from the additional investment.
Minister of State for Transport, Jesse Norman MP, said:

"The additional road improvements are great news for Herefordshire, and I was pleased to see that Herefordshire Council and Balfour Beatty have been able to deliver them so quickly following the allocation, providing immediate benefits for road users. I was also impressed with the systems in operation to manage road, bridge and other assets around the county, ensuring they are safe and properly maintained."
Cllr Barry Durkin, Cabinet member transport and regulatory services, said:

"We were delighted to welcome the Minister to Herefordshire, which is of course his home constituency, and update him on the council's commitment to further improving the county as a great place to live, work, visit and study.

"There are over 2,000 miles of roads in Herefordshire, and they all need to be maintained and cared for – there were more than 23,000 jobs raised for carriageway repairs in the last financial year alone. The additional investment will enable us to improve the condition of a further 50 B, C and U class roads right across the county, and ensure that investment in our roads generates the very best outcomes for Herefordshire."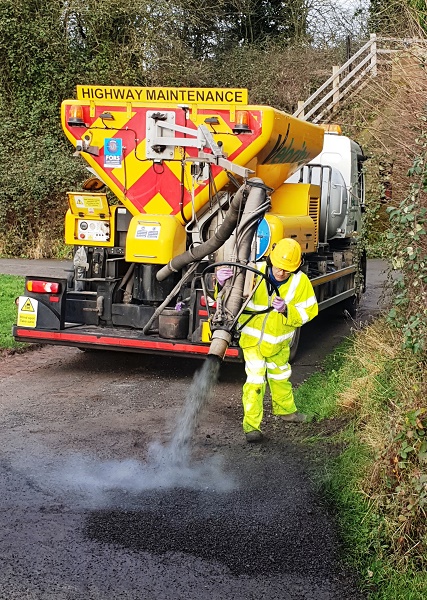 The Velocity patcher at work
Published: Tuesday, 29th January 2019