Joint Nutrient Management Plan Seminar sets way forward for joint working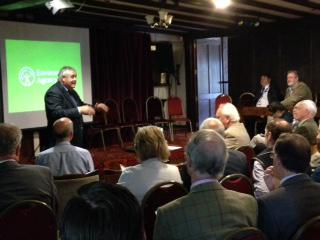 Powys and Herefordshire Councils' first joint Nutrient Management Plan Seminar took place at the Baskerville Arms, Clyro on Tuesday 20 September.
The event gave Councillors the valuable opportunity to gain a better understanding of the Nutrient Management Plan and the important role of various organisations in protecting the water quality of the River Wye.
Those presenting included Environment Agency, Welsh Water, Wye and Usk Foundation/Farm Herefordshire, as well as planning officers from the hosting authorities.
Cllr Philip Price, Chair of the Nutrient Management Plan Board said "The event provided a great forum for members on both sides of the Border to gain greater understanding of why the level of phosphate in the River Wye SAC needs to be reduced and of the work being undertaken to address this critical issue. I look forward to future joint events to advise of progress in implementing the Nutrient Management Plan."
For the River Wye Special Area of Conservation (SAC), the Nutrient Management Plan focuses on sources of phosphates. High levels of phosphate in the SAC pose a threat to the ecology of the river and have the potential to restrict development in the river catchment. The Environment Agency has been working with Natural England to develop the plan in consultation with the local authorities and groups such as the National Farmers' Union, the Country Land and Business Association and Dwr-Cymru-Welsh Water.
To find out more about the Nutrient Management Plan go to: www.gov.uk/government/publications/nutrient-management-plan-river-wye