300 households in rural and urban areas of Herefordshire and Shropshire are set to benefit from Warm Homes Grants to install efficient affordable heating.
Led by Herefordshire Council, Keep Herefordshire Warm and Keep Shropshire Warm has been successful in bidding for over £1 million of funding to pay for the installation of affordable central heating systems for households in fuel poverty. Funding will be combined with other non-council funding streams to provide £1.5 million of capital works to an estimated 300 eligible households across the two counties.
The funding will help low income private occupiers, including owner occupiers and privately renting tenants, to install central heating, such as mains gas, LPG or renewable heating. It will target those who are in poor health or at risk of ill health, those with underlying health issues, those caring for a vulnerable person, or those worried about their home being cold or damp.
The fund, established by National Grid and being administered by Community Interest Company, Affordable Warmth Solutions, is designed to support councils, registered social landlords and relevant partner organisations to address some of the issues affecting fuel poor households.
Fuel poverty remains a significant issue in both Herefordshire and Shropshire, with an estimated 11,043 households thought to suffer from fuel poverty across Herefordshire and a further 17,670 households in Shropshire.
A lack of central heating in a property can in itself cause fuel poverty and for those in poor health, old age and with limited cash, the prospect of cold related ill health is very real with many facing the prospect of a visit to hospital causing further pressure on the NHS in the winter months due to cold conditions.
Many people are unaware of the risks that living in a cold home present to their health. The risk of a stroke or heart attack rises, and other conditions such as colds and flu can become more likely. Just putting on another jumper or relying on one heater isn't enough for many people.
Councillor Philip Price, Cabinet member infrastructure said:
"Herefordshire Council and its partners are keen to do all we can to help householders stay warm and safe in their homes for years to come. We therefore welcome this Warm Homes funding in order to provide first time central heating systems to fuel poor and vulnerable residents across the two counties."
Director of Public Health, Karen Wright welcomed the new funding:
"14% of Herefordshire households are in fuel poverty, which means they cannot afford to heat their homes to an adequate level. This can have a significant impact on physical and mental health and in particular for people who already have circulatory and respiratory health conditions. This funding will help households to improve their wellbeing and quality of life".
In order to qualify for support through the project householders will need to be in a privately owned or rented property without a recognised central heating system, typically be low income and either be in receipt of certain qualifying benefits and/or vulnerable.
If you feel that you may qualify then please contact our friendly advisors at Keep Herefordshire Warm on 0800 677 1432 or through email at khw@mea.org.uk.
The Keep Herefordshire Warm scheme provides free and impartial energy advice to local residents through an advice line, home visits and community events, as well as funding for energy efficiency measures. The service can also offer advice on energy tariffs and discounts, suppliers, and how to better use energy at home.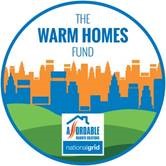 Published: Tuesday, 8th January 2019