Installation of solar panels to the roof of Blueschool House began this week as part of Herefordshire Council's promotion of sustainable energy.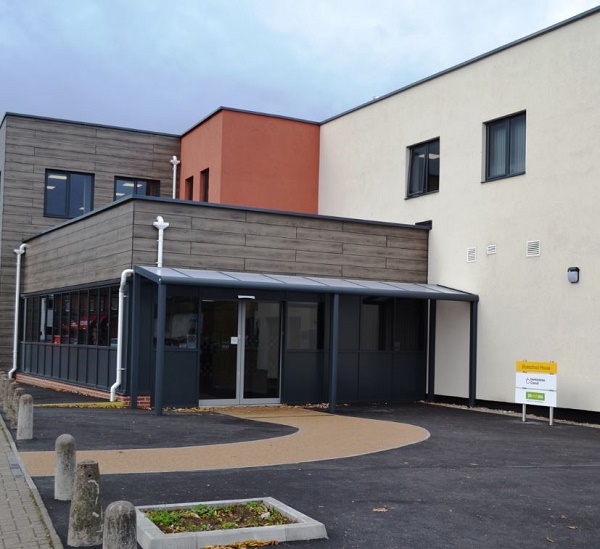 Work to put up the scaffolding began on Thursday (13 December) and will be in place for between two and three weeks. Operations will continue as normal at Blueschool House and disruption to the public will be minimal.
The installation will lead to an annual reduction of 11 tonnes of Carbon Dioxide, and save 31,564 kilowatt hours of energy - equivalent to £3,287 every year.
Herefordshire Council is the lead authority on the Marches wide Sustainable Energy in Public Buildings Programme (2017-2020) which is part-funded by the European Regional Development Fund (ERDF).
The programme offers energy assessments, capital and project support for the installation of innovative and supporting energy efficiency measures in public buildings across Herefordshire, Shropshire, and Telford and Wrekin areas. Eligible projects can then apply for a capital contribution to cover up to 50-60 percent of an energy efficiency project.
The installation will cost £30,300, of which 50% is grant-funded, meaning it will pay for itself in just over six years.
Cllr Philip Price, cabinet member infrastructure, said:
"Herefordshire Council is committed to encouraging sustainable energy and we take every opportunity to make our properties more energy efficient. We all have a role to play in reducing our impact on the environment, and the installation of these solar panels will contribute to making sure our county remains healthy, vibrant and beautiful for future generations.

"There was no grant funding for renewable technologies at the time of the original Blueschool House makeover, so we are delighted the work is now able to take place at the best value for local taxpayers."
For further information, please visit the Herefordshire Council website.