Innovative research suggests we need to change our perception of littering
Herefordshire Council, in partnership with Balfour Beatty Living Places, has recently undertaken research to understand public perceptions of, and behaviour towards littering.
The council was one of only ten organisations nationally to secure funding from the Waste and Resources Action Programme (WRAP) to undertake an 'innovative qualitative research' project.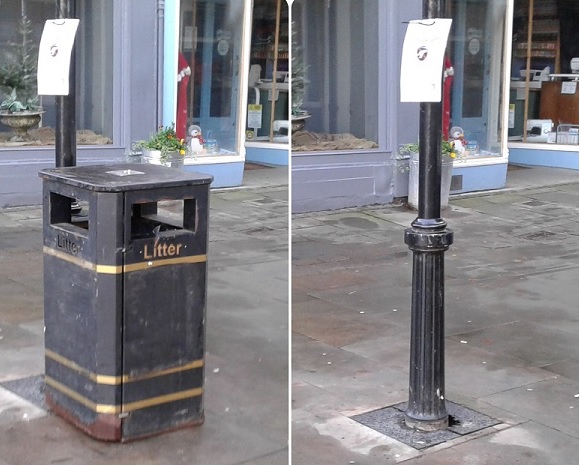 The research involved the removal of 11 litter bins in 10 specially selected rural, semi-rural, layby and urban locations, and studying the response of the public.
Litter and fly-tipping at each location was assessed before and after removal and data analysed. Four workshops to understand public attitudes towards litter were also conducted.
Initial findings indicate that removing certain bins in some rural and urban areas may actually reduce litter and fly tipping by encouraging people to take responsibility for their waste, take it home and dispose of it correctly.
Cllr Barry Durkin, cabinet member transport and regulatory services, said:
"Herefordshire Council currently spends £1.2 million each year on cleaning up litter in Herefordshire and we want to do everything in our power to address the issue. The initial results indicate we may indeed need to 'bin' some of our assumptions about littering and to take responsibility for how we dispose of our waste.

"Our litter team, using national research funding, have produced some interesting results that require further study and consideration to inform future decision making. From the available statistical evidence and the significant levels of workshop feedback, it is clear that behavioural change is necessary to reduce littering and fly tipping; not to just simply increase the number of bins on our streets. Although these are only initial indications, it is evident that fewer bins in certain areas could actually result in less litter and less fly tipping. Our findings will be shared with WRAP and DEFRA to help inform any future research or policy development."

"During 2019, Herefordshire Council's Stop the Drop campaign will continue to encourage parish and town councils, voluntary litter groups, local communities, schools and businesses to get involved and play their part in ensuring that Herefordshire becomes litter free. Therefore, we would continue to encourage people to reduce the waste they produce when 'out and about' by using reusable cups, having a car bin; to take rubbish home and to think about buying items with less disposable packaging."
Although not trial sites, public feedback has been overwhelmingly positive. Jim Wesley, Chairman of Cusop Parish Council, said:
"We took out all the litter bins in the parish and the outcome has all been positive, none of them have been replaced. There has not been an increase in litter and there has been no recurrence of fly tipping."
Andy Pullen, Deputy Headteacher of Bridstow primary school, said:
"Over time, we found that the bin outside the school was getting full more quickly and that people were emptying rubbish from their vehicles into it. When it was full they would leave the rubbish on the floor near the bin.

"It did not look like deliberate littering, more like people thought it would be okay because they were expecting that the bin would be emptied by the council. The litter in the bin would also include bags of dog excrement which of course got very smelly in warm weather.

"From the time the bin was removed, all the litter outside the school in the layby area has stopped."
All bins removed during the trial have now been replaced and Parish Councils will be updated with the full report in due course. It will be for Town and Parish Councils to consider what future action they wish to take to address littering and fly-tipping in their community.
For more information on the range of means Herefordshire Council use to tackle litter, visit www.herefordshire.gov.uk/stopthedrop