Latest edition is available to view online, with limited print in libraries and customer service centres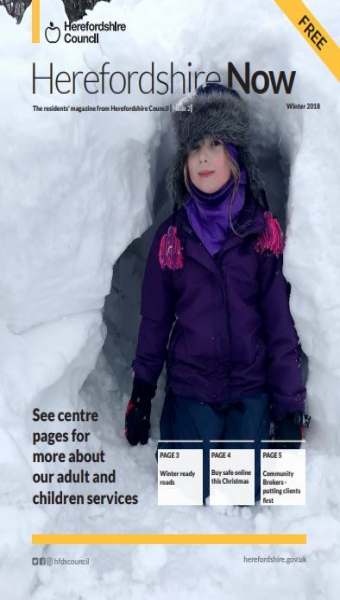 Herefordshire Now December 2018 front cover
The December 2018 edition of Herefordshire Now is online, with news and information about council services for residents.
View Herefordshire Now online: www.herefordshire.gov.uk/news/herefordshirenow
Produced four times a year, Herefordshire Now is available on the council website, with a small number of paper copies available through community outlets such as libraries and council buildings for those who prefer to read from a paper version.
Each issue of Herefordshire Now will include news about a range of council services, and information such as details of council-run courses and events. With a large number of people now accessing information on their digital devices, being online means that readers can easily link through to further information and see video content.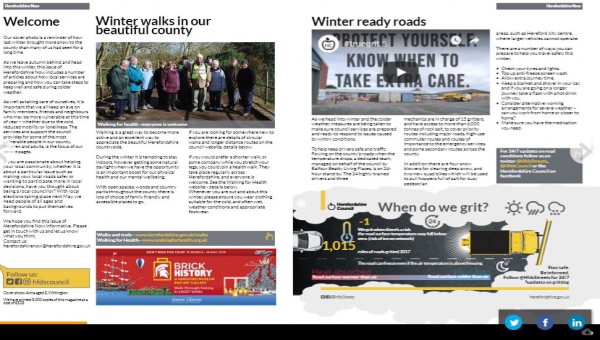 Inside Herefordshire Now December 2018
The front cover of the latest edition is a reminder of how last winter brought more snow to the county than many of us had seen for a long time. Inside, there are a number of articles about how local services are preparing for the winter and how residents can take steps to keep well and safe during the colder weather.
The value of communities is a theme that runs through this quarter's magazine. There is a profile on the council's Community Brokers team, who have transformed the way residents with a care plan are supported. The team's commitment to their work has been recognised by the Local Government Chronicle, who has shortlisted the team as finalists for a Community Involvement Award.
With local elections taking place in May 2019, there is information about becoming a councillor for those who are passionate about making a difference in their local community. Meanwhile, nominations for the 2019 Community Champion Awards are open - a chance to say a massive 'Thank You' to the extraordinary individual and group contributors in Herefordshire, who have made a positive difference in their community.