A discussion of the local, national and international context of tackling litter formed the basis of Herefordshire Council's Stop the Drop Litter Stakeholder Forum last week (Tuesday 27 November).
The forum took place at the Kindle Centre and attracted a range of stakeholders with the common goal of reducing litter by making it socially unacceptable. Herefordshire Council works in collaboration with individuals and organisations across the public and private sectors to educate the public and thus reduce the causes of littering, and empowering community action to remove litter.
We have provided over 200 litter kits to individuals, community groups, schools and parish councils, our partners, Balfour Beatty Living Places are loaning kit and collecting bags of litter, and there is a comprehensive bank of information at www.herefordshire.gov.uk/stopthedrop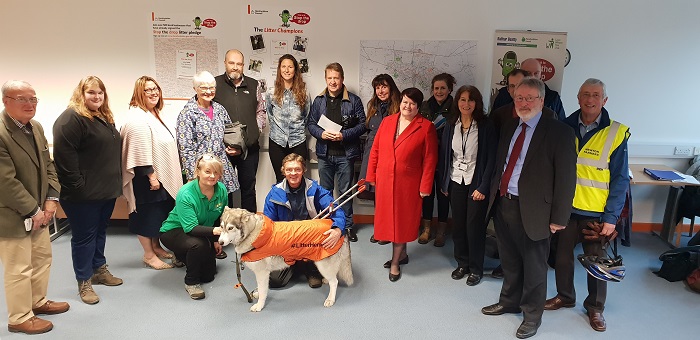 The forum included updates from The Ross Community Clean Up Crew and their month-long litter picking challenge; Leominster Town Council's Environmental Services Supervisor, Julie Debbage, who spoke of the scale of the challenge facing litter pickers in Leominster, including a drain blockage caused by cigarette butts over one metre deep; Herefordshire Council's David Hough on partnership working in enforcement; Hereford Community Clean Up group's various recycling initiatives; and Morgan Schofield, who shared experiences of setting up a litter group in New Zealand.
The Forum also heard from the inspirational Wayne Dixon, who, accompanied by his dog Koda, is fulfilling his childhood ambition of walking the entire 6,824-mile length of Britain's coast – and picking up litter along the way.
When Wayne started his journey he expected to be collecting 30-40 pieces of litter a day but that quickly grew as he became aware of the scale of the problem, and he now collects thousands of pieces of litter each day. While in Scotland, he averaged one bag of litter collected for every mile he walked.
The main problem he has encountered is people throwing litter from cars, with coffee cups and takeaway packaging scattered along every A- and B-road that he has visited.
"I see a correlation between what's happening in society and the amount and type of litter and how long it's been there. It gives a sense of the wellbeing of the community," Wayne said. "Every village, town or city I visit, I find the same amount and type of litter. There's just a blanket of litter across the whole country"

Wayne also hailed the success of Herefordshire Council's Litter Pledge, which has had 1500 sign-ups, including over 500 businesses. "I visit a lot of groups and organisations across the country, and the Stop the Drop Litter Pledge for Businesses is something I'll definitely take away and share," he said.
Cllr Barry Durkin, Herefordshire Council's cabinet member transport and regulatory services, said: We're very grateful to all of our guests at the Forum, who gave such interesting and inspiring talks about what they've been doing to reduce the amount of litter everywhere from Herefordshire, to the coastline of Britain and the other side of the world in New Zealand.

"The message we'd like people to know is that we are listening to you – we were pleased to be able to update attendees on the progress we've made following suggestions from the first forum meeting, and we've noted the latest suggestions, which will be hugely influential in shaping how we move forward.

"I would like to thank Wayne in particular for joining us. He is an inspiration, and it was a pleasure to discuss with him the ways we can all work together to keep our communities clean. And hopefully he will now spread the word about our innovative Litter Pledge, and bring this success to other parts of Britain and beyond."