Herefordshire Council's Bag it, Bin it campaign has reached Ledbury – its final stop this year.
The campaign, co-ordinated by Herefordshire Council with its community partners, aims to tackle the problem of dog mess in the county. Bag it, Bin it was launched in Hereford over the summer, and has been rolled out to Ross-on-Wye, Leominster, and now Ledbury.
Bag it, Bin it is one element of Herefordshire Council's wider campaign to encourage responsible dog ownership, including:
Getting dogs and other pets microchipped
Making sure dogs have a collar and ID tag
Keeping dogs on a lead in public places
Ensuring dogs and other pets have regular check-ups with a vet
Addressing noise pollution by minimising dog barking
Brand new campaign signage to encourage owners to clean up after their dogs was unveiled at Ledbury Recreation Ground on Monday 12 November. Ledbury Town Council joined in the spirit of the campaign by announcing that they now provide free dog poo bags.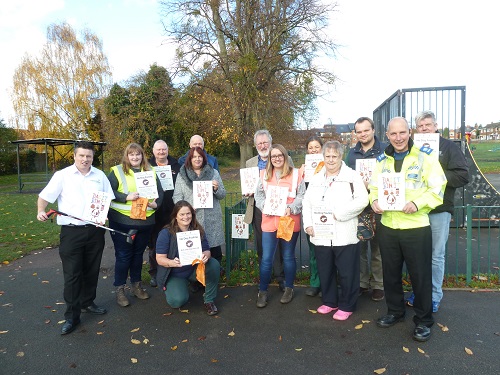 Cllr Durkin, cabinet member transport and regulatory services, said:
We have been delighted with the reception Bag it, Bin it has received throughout Herefordshire. The initiative to encourage responsible dog ownership has been welcomed in Hereford, Ross-on-Wye, Leominster and Ledbury, and even though our campaign has come to a close for this year, the signage, enforcement and principles of dog control are here to stay.

"On behalf of Herefordshire Council, I would like to thank everybody who has made this campaign such a great success, and to the groups and individuals who lend a hand to keep our county clean, tidy and beautiful."
A new Public Space Protection Order for dog control came into effect in March 2018, and people can now report dog mess themselves via the Herefordshire Council website. By providing as much information as possible, this will help us focus Enforcement appropriately, targeting problem areas.