Herefordshire History's Centenary commemorations recognised by Department for Digital, Culture, Media & Sport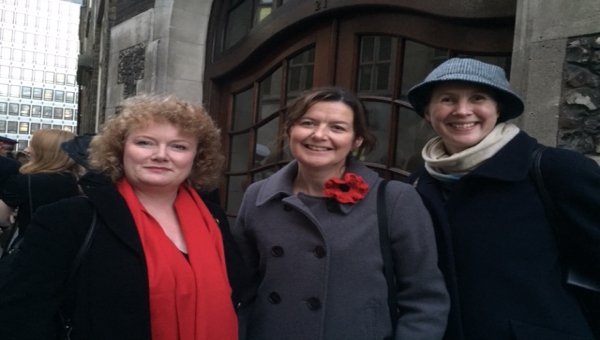 (l-r) Jan Nesaratnam (Senior Librarian), Lauren Price (Librarian) and Elizabeth Semper O'Keefe (Archivist and local historian for Herefordshire)
Two members of staff from Herefordshire Council were honoured to receive an invitation to attend the Remembrance Sunday Thanksgiving Service at Westminster Abbey on 11 November 2018, commemorating the 100th anniversary of the Armistice.
Members of The Royal Family, and religious and political leaders were joined by members of the public who contributed to the Centenary on a national, regional and local level.
Organisations which ran World War 1 projects funded by Heritage Lottery Fund were entered into a ballot for tickets to the service. Jan Nesaratnam and Lauren Price from the council's library service were successful for their work with Herefordshire History and the project 'Herefordshire in the Great War: Telling the story 1914-18'.
Herefordshire Council Librarian Lauren Price said: "It was an amazing day. I feel so privileged to have been able to attend and represent our 'Herefordshire in the Great War' project."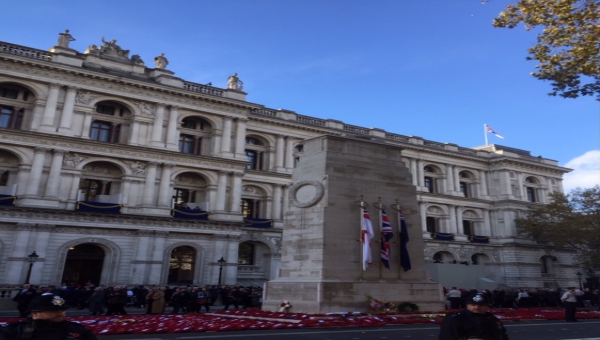 Spectators' view of Cenotaph commemorations
Recognising the huge contribution the Heritage Lottery Fund (HLF) and its First World War projects have made to the Centenary, the Department for Digital, Culture, Media & Sport invited HLF to nominate people to attend the service. As a result over 300 people who were involved with HLF funded First World War projects across the UK attended the service on Sunday.
'Herefordshire in the Great War: Telling the story 1914-18' was made possible by a grant of £69,000 from the Heritage Lottery Fund, which distributes the heritage share of National Lottery funding, supporting a wide variety of projects across the UK. HLF has invested £97million in 2,200 First World War Centenary projects.
The 'Herefordshire in the Great War' archive is available to view at www.herefordshirehistory.org.uk