Largest prosecution fine for unlawful waste disposal awarded to Herefordshire Council
Birmingham business MJB Truck Services Limited has received fines and costs totalling £29,000, and Director Jason Bowser (45, of Old College Drive, Wednesbury) received a three year conditional discharge, following the unlawful disposal of hazardous waste on the A49 outside Ross-on-Wye.
In an earlier hearing at Hereford Magistrates' Court (24 October 2018), MJB Truck Services Limited and Mr Bowser pleaded guilty to failing in their duty of care to transfer their business waste, which included hazardous waste oil from an industrial process, to an authorised person and to secure the transfer with a written description of the waste.
In December 2017, Herefordshire Council put out an appeal for information about an articulated trailer that was dumped on the A49 layby at Much Birch, between Ross-on-Wye and Hereford. Officers from the council's Community Protection Team discovered that the trailer had been abandoned containing approximately 24,000 litres of waste oil.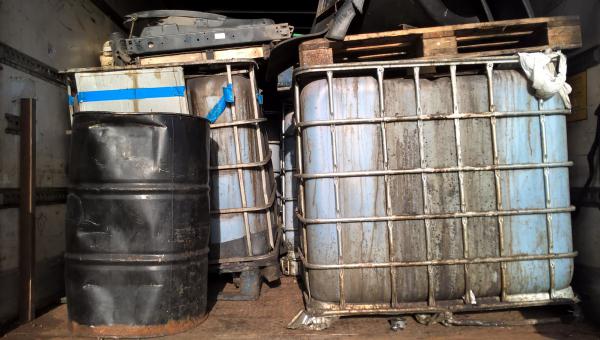 The articulated trailer contained approximately 24,000 litres of an oil
Although the trailer had all of its identification markings removed, following an extensive eleven month investigation with assistance from the local Environment Agency enforcement team, officers were able to trace the trailer's ownership from a hire sticker on the trailer. It was eventually established that Jason Bowser had purchased the trailer from an online auction site, giving a false company name to the seller.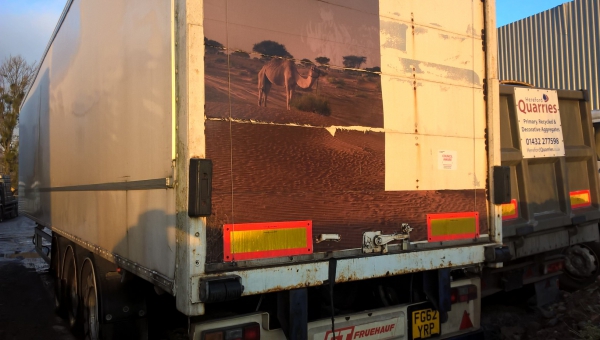 The articulated trailer has a distinctive camel image on the back
Mr Bowser admitted that he instructed an unknown third party to dispose of the trailer and its contents for a £3000 cash payment. Bowser also admitted that he knew that it was possible that the third party may illegally dispose of the trailer and its contents, but he transferred the waste regardless.
David Hough, Herefordshire Council's Trading Standards Service Manager, said:
"This is the largest fine Herefordshire Council has been awarded for a trade waste prosecution, and reflects the considerable environmental risk posed by the abandoned contaminated liquid, which would have had a catastrophic effect if the liquid had leaked into the surrounding countryside and watercourses. All businesses must ensure they have appropriate duty of care measures in place so their trade waste is disposed of correctly, and we will take action against any business that illegally disposes of their waste."
Councillor Barry Durkin, Herefordshire Council's Cabinet Member for Transport and Regulatory Services, said:
"In this particular case, the significant fine reflects the potential environmental risk posed by the abandoned waste. By bringing this case to prosecution, Herefordshire Council has shown that we will take action against any householder or business that illegally disposes of their waste."
Herefordshire Council's Community Protection Team investigates unlawful waste disposal and fly tipping cases that are reported at www.herefordshire.gov.uk/flytipping
Published: Thursday, 1st November 2018