Second emergency closure order issued within a week to crack down on illegal tobacco in Hereford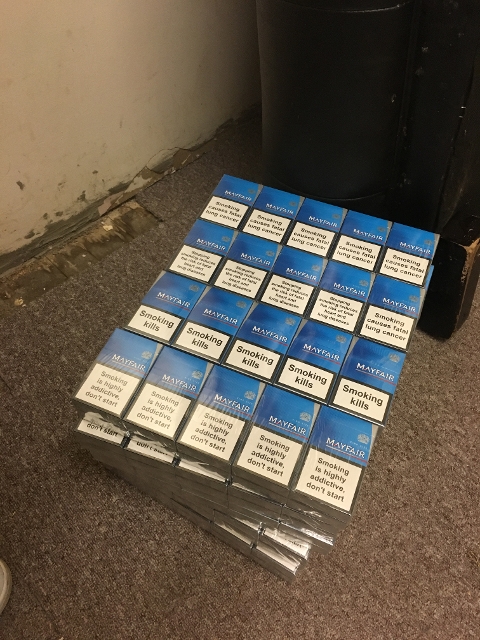 A three month emergency closure order has been granted against International Food at 10 Commercial Road, Hereford. A contested hearing was held yesterday morning (Monday 15 October) at Hereford Magistrates' Court due to the persistent sale of illegal tobacco at the store.
Hereford Magistrates' Court granted the closure order following West Mercia Police serving the premises with a 48 hour closure notice on Monday 8 October under the Anti-Social Behaviour, Crime and Policing Act 2014. The court heard that International Food had persistently sold illegal tobacco for the last eight years despite numerous raids and prosecutions.
This closure order follows a notice granted against Zabka on Eign Gate, Hereford last week. Only a handful of police forces and local authorities have used this new power, which was considered appropriate and proportionate due to the persistent disregard to previous regulatory action. Breaching a closure order is a criminal offence, and anyone that attempts to access the address could be arrested.
The closure order follows a Multi Agency Targeted Enforcement Strategy (MATES) operation on International Food in early October. On this occasion, officers from Herefordshire Council's Trading Standards and Environmental Health service, West Mercia Police and Hereford and Worcester Fire and Rescue Service seized 12,500 cigarettes and 9kg of hand rolling tobacco, as well as a significant amount of out-of-date food from the shelves of the store.
Marc Willimont, Herefordshire Council's Acting Assistant Director for Regulation, Environment and Waste, said:
"The use of emergency closure powers proves that Herefordshire Council, West Mercia Police and our other partner agencies are standing up to persistent offenders in an effort to clamp down on exploitation and the sale of illegal tobacco, which is often linked to organised crime and other criminal activity. The closure order is yet another successful outcome supported by multi-agency targeted enforcement which clearly shows the value of working in partnership with other agencies."
Sergeant Duncan Reynolds from West Mercia Police said:
"As part of our ongoing Protect campaign, we're encouraging members of the public to work with us to recognise the signs of serious and organised crime, such as the sale of illegal tobacco, and report them to us so that we can investigate thoroughly.

"The closure process has been the culmination of several months' work involving evidence submitted by partner agencies including Herefordshire Council, Hereford & Worcester Fire and Rescue Service, HM Revenue and Customs and the Home Office, as well as local retailers and members of the public. The evidence of criminality and public nuisance has justified the use of emergency closure powers as a way to significantly disrupt this illicit activity. This tactic will now be pursued against similar businesses involved in this type of criminality across the county. The closure powers we've been able to use in this case emphasise how serious these offences are, and we will continue to work with our partners to ensure that organised criminals are unable to continue operating in Herefordshire."
There is further information about Herefordshire Trading Standards on the Herefordshire Council website at www.herefordshire.gov.uk/trading-standards