15 year old Gregory Dunsford, from Belmont has been declared a Litter Champion by Herefordshire Council.
Gregory, from Belmont, started litter picking around his local area at the start of the summer and went out every day during the school holiday. Now he is back at school he is still making time to keep Belmont litter free and is out at least three times a week – no matter the weather.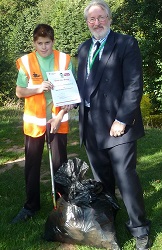 Gregory said:
"I litter pick around Belmont Pools and Haywood Country Park, as well as Waterfield Road and Westholme Road. I pick up sweet papers, beer bottles, cans, cigarette butts, bottle tops – basically anything that's safe to handle. I also report any problems I come across to the local councillor."
Cllr Barry Durkin, who presented Gregory with his certificate, said:
"It was a delight to meet Gregory and his parents. The fantastic contribution he makes to tackling litter in his local open spaces deserves to be recognised. I would like to thank Gregory on behalf of Herefordshire Council – he is a credit to his family and an asset to his community. We are providing Gregory with a new hi-vis jacket and safety gloves to keep him safe and to help him in his efforts."

"The work of volunteers like Gregory is invaluable to the continuing success of our Stop the Drop campaign, and a perfect example to inspire local people, communities, schools and businesses to help us in the effort to make Herefordshire litter free."
To learn more about the Stop the Drop Campaign and to sign up to the Stop the Drop Pledge please visit www.herefordshire.gov.uk/stopthedrop or telephone 01432 383449.