A Multi Agency Targeted Enforcement Strategy (MATES) operation took place in Hereford on 14 September following intelligence of suspicious activity at two premises on Commercial Road
Herefordshire Council's Trading Standards and Environmental Health team, Hereford and Worcester Fire and Rescue Service and West Mercia Police officers worked in partnership to carry out the planned action at Munchies and Maxii on Commercial Road, Hereford.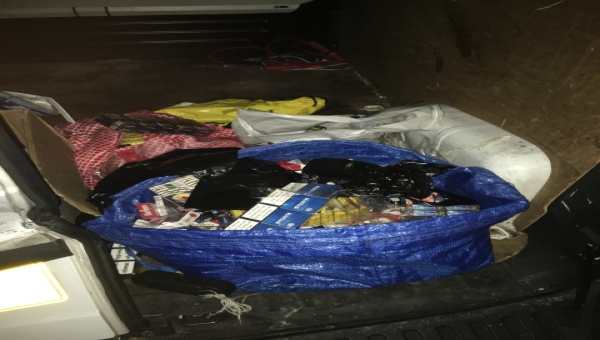 Illegal cigarettes seized outside Maxii, Hereford
Trading Standards seized approximately 8,000 cigarettes from a vehicle outside Maxii.
Housing Enforcement entered under warrant, and found persons living in the first floor prohibited accommodation above Munchies, and a further enforcement notice will be issued prohibiting sleeping in the ground floor commercial areas.
Enforcement notices are being issued by Hereford and Worcester Fire and Rescue Service against Munchies for non compliance with previous advice.
One Iraqi Kurd male was arrested an suspicion of being an illegal over stayer since 2011; he was passed on to immigration.
Marc Willimont, Herefordshire Council's Head of Regulatory & Development Management Services said:
"The trade of illegal tobacco severely damages honest local businesses and unscrupulous housing landlords put vulnerable people's lives at risk by allowing tenants to live in dangerous, unsafe accommodation. We will continue to work in partnership with the police, and other partner agencies, to clamp down on this organised criminal activity."
Sergeant Duncan Reynolds from West Mercia Police said:
"The trade of illegal cigarettes and other commodities is not only harmful to health, it is the type of crime that can be linked to organised crime groups working across our county borders.

"This is yet another example of successful partnership working to tackle organised crime in our community. Alongside MATES, our Protect campaign will see neighbourhood officers continuing to work closely with other organisations using all the powers available to us to bring offenders to justice.

"Serious and organised crime has a devastating effect on communities. I would urge members of the public to work with us to recognise the signs and report them to us so that we can investigate thoroughly."
The Herefordshire Council website has more information about Trading Standards enforcement and landlord responsibilities.