Long-serving street trader to retire after 23 years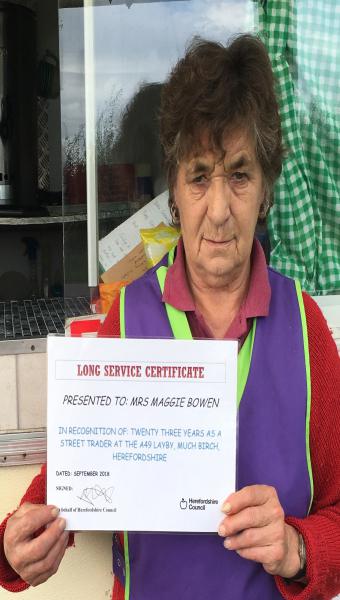 Thursday 27 September will mark the end of an era as a long standing street trader will finally be hanging up her pans after almost a quarter of a century trading at the same pitch.
Anybody who travels the A49 may well have passed the lay-by near Much Birch known affectionately by many as 'Maggies'. Maggie Bowen began trading at the lay-by in 1995 and has been a regular fixture ever since - come rain or shine, serving up the usual fayre of breakfast items as well her delicious home-made cakes.
Having served thousands of customers over the years, Maggie said:
"There is no way I would have thought back in the nineties that I would still be trading now, but I've really enjoyed my time on the lay-by. I've always liked cooking and I've met so many people - both new and regular customers some of whom were real characters who I will miss".
Now 73, Maggie will be spending her retirement concentrating on her hobbies and caring for her husband. She joked:
"What I won't miss so much now are the dark, wet winter mornings getting up at 6am."
Maggie was presented with a certificate from Herefordshire Council marking her dedication and long service on the lay-by.
Cllr Barry Durkin, Cabinet Member for Transport and Regulatory Services added:
"I'd like to congratulate Maggie for the years she has achieved as a street trader, serving the motorists on this route for so long and wish her all the best for her retirement".