Inspiring exhibition displayed at The Courtyard until 30 September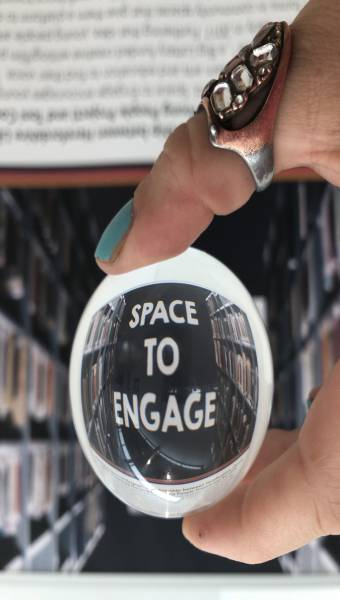 A year-long partnership between Herefordshire Libraries, Toni Cook and SHYPP (Supported Housing for Young People Project) has culminated in an inspiring exhibition at The Courtyard, Hereford.
The 'Space to Engage' project was made possible by Arts Council funding secured by Herefordshire Libraries. During weekly sessions at Hereford, Leominster and Ross Libraries, young people worked with local artists to express themselves through performance, film, writing and photography. The 'Space to Engage' exhibition showcases their voices and experiences.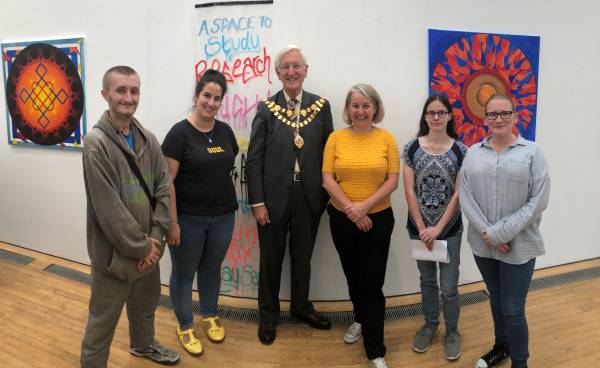 (l-r) Jack, Alison, Councillor Brian Wilcox (Chairman of Herefordshire Council), Toni Cook, Sophie, Sadie
Jan Nesaratnam, Senior Librarian for Herefordshire Council's library service, said:
"For these young people, using the library has been about becoming familiar with the community space and seeing it as a place to express themselves and develop their skills and experience. 'Space to Engage' has been an exciting opportunity for the library service to engage with young people in a positive and creative way to form a lasting relationship. The standard and variety of work produced by everyone has been excellent, funny, and moving, and we are proud that our library spaces have provided such a tangible inspiration to the artwork."
Sadie found inspiration in the library staff as well as the books:
"We all had stereotypes of librarians before we came in, and that was shattered straight away. We came to realise that the people behind the desk had stories to tell. As this project got underway, I really enjoyed meeting up with everyone at the library and having a laugh. We used the library resources creatively, so we would go into the library, pick up a book, go ten lines down, two words across - do that a few times and then write a piece of poetry based on that."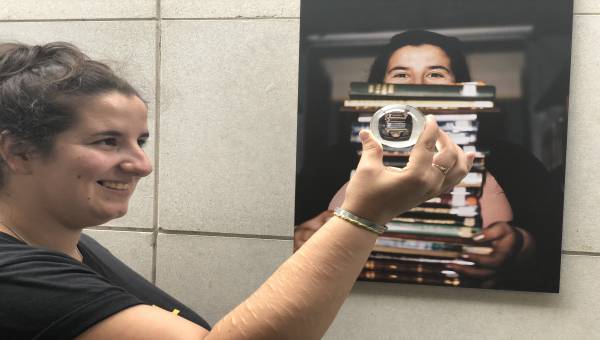 The 'Space to Engage' exhibition will be on display at The Courtyard, Hereford until 30 September.
Thank you to the following local artists for their support:
Toni Cook - Artistic lead
Rich Hankins - Filmmaking (mediaSHYPP)
Kie Cummings - Photography and exhibition design (mediaSHYPP)
Levi Cooke - Art pieces
Jon Williams - Eastnor Pottery
Jonny Fluffypunk - Poet
Lily Horgan - Dancer