Lords committee told that rural economy can thrive with improved infrastructure and skills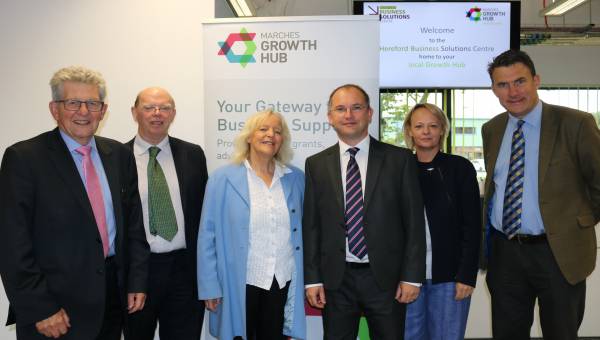 (l-r) Lord Foster of Bath, The Earl of Caithness, Baroness Mallalieu, Councillor Jonathan Lester (Leader of Herefordshire Council), Baroness Rock, Councillor David Harlow (Cabinet Member for Economy and Communications)
Better physical and digital infrastructure alongside improved access to skills will enable further growth of the rural economy in Herefordshire, members of the House of Lords Select Committee on the Rural Economy learned today.
On a visit to the county, where they met representatives of business organisations, council leaders, business owners and local residents, the committee heard of many success stories – from businesses developing night vision equipment to food supply chain software provider – but also of the challenges facing further growth or the establishment of new businesses.
The committee plans to make recommendations to government about measures which will help benefit the rural economy in England.
Chairman of the Committee Lord Foster of Bath said:
"As in many other parts of the country, Herefordshire's rural economy is doing well, helped by close working between bodies such as the council, Local Enterprise Partnership and the Chambers of Commerce. The planned new engineering-focussed university in Hereford will provide further stimulus for growth. But the expansion of existing businesses and the establishment of new businesses is hampered by unreliable infrastructure, with a strong call for better mobile and broadband coverage.

"At the same time, we heard that agriculture remains the backbone of the rural economy but is also facing challenges not least in attracting new recruits with the technological skills now needed in the industry."
Councillor David Harlow, Herefordshire Council Cabinet Member for Economy and Communications, took part in the roundtable discussion and said:

"The committee's visit was a great opportunity to showcase local businesses and explain Herefordshire Council's support and plans for future business development in the county."
Published: Friday, 14th September 2018