The current Storesbrook Bridge, situated on the B4214 near Ledbury, will close to traffic for the last time at 8am on Wednesday November 28.
The bridge has provided outstanding service to the local community over many decades but has experienced a steady decline in condition, expected due to its age. This has advanced to a point where the primary deck would no longer be fit to carry traffic in 2019.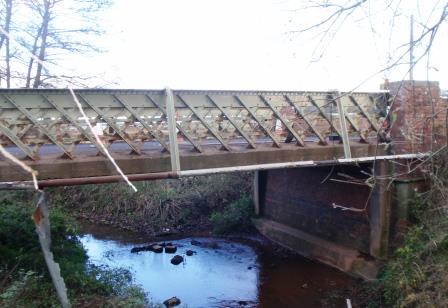 The most recent inspection showed further extensive corrosion underneath the bridge, something not visible to users.
Herefordshire Council, working in partnership with Balfour Beatty Living Places, has been working with local communities to minimise the impact of works to replace the full bridge deck.
The bridge closure date was put back from November 1 to help local farmers and businesses complete most of their harvest-related traffic operation. The bridge contractor has also been asked to provide additional resources to this work to reduce the original 16 week programme to 13 weeks – with a planned completion date of the end of February next year.

More than 2,300 letters are being sent to local residents and businesses this week to update them, provide diversion information and to inform them that Rhea Lane will be closed to through traffic for the duration of work. Work to ensure students can travel from Ledbury to Bosbury Primary School by bus is also taking place.
It should also be noted that the bridge will not reopen either at weekends or over the Christmas and New Year period.
We know that this closure will cause inconvenience but the new bridge will serve future generations for many decades to come.