Herefordshire Council, in partnership with Balfour Beatty Living Places, has completed extensive repairs to Hampton Court Bridge, which carries the A417 over the River Lugg close to its junction with the A49 at Dinmore.
The 200-year-old Grade 2 listed bridge was beginning to show signs of distress and 'dipping' of the road surface, caused by a combination of water damage and age-related deterioration.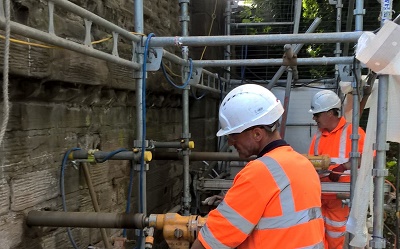 The initial 13-week phase of work involved digging down the inside faces of the bridge walls by hand and casting new reinforced concrete internal walls tied to the original outer stonework. The second seven-week phase required scaffolding on the outside face of the bridge and drilling through the bridge to install tie bars to tie the two reinforced concrete walls together and prevent future movement.
Due to the importance of this section of road to the network, Balfour Beatty Living Places carried out the works under two-way temporary traffic lights and maintained access for a single lane of traffic over the bridge. The bridge will be fully open by August 31 2018, follow us on Twitter @HfdsStreets for confirmation.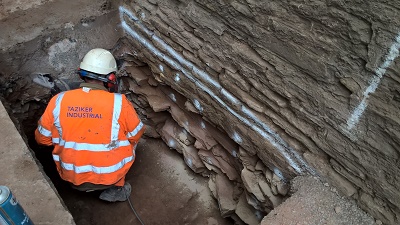 Councillor Barry Durkin, cabinet member transport and regulatory services, said:
"I am delighted that Hampton Court Bridge has been given a new lease of life and we and Balfour Beatty would like to thank local communities and road users for their patience while critical repairs were completed. This bridge plays an important role in daily life and also when the nearby A49, (maintained by Highways England), is closed due to road traffic collisions or for other reasons."

"These works are part of more than £25m that Herefordshire Council will invest into the county's roads and public spaces in 2018/19. This investment will not only benefit the county's roads and infrastructure, but it will have a positive impact on the health, wealth and wellbeing of all who live, work and travel in Herefordshire."
Andy Williams, Contract Director for Balfour Beatty Living Places in Herefordshire, said:
"This was a major repairs operation, although motorists using the bridge would have been unaware of the majority of work being carried out as it was taking place inside the bridge, below road level. A total of 19 stainless steel pins, each measuring seven metres when fully assembled, had to be placed into the side of the bridge.

"Given the age of the bridge and the mixture of filling used in its original construction, this was a technically challenging restoration for the team involved and I am delighted with the outcome achieved for users."
Published: Friday, 24th August 2018