New GCSE grading system rolled out across English Baccalaureate subjects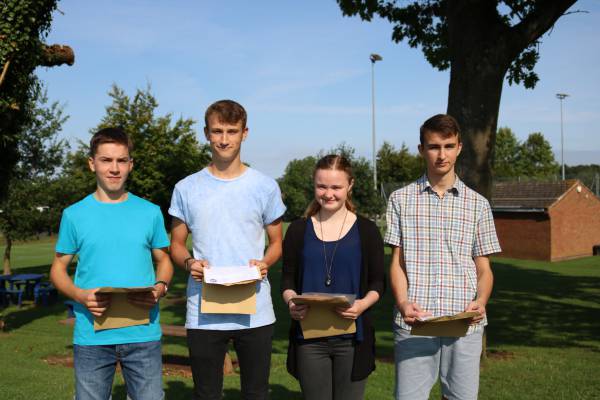 John Masefield High School GCSE students: Thomas Williams, Toby Raison, Ella Barber, William Flaherty
Herefordshire Council would like to congratulate all our students who received their GCSE results today.
This is the second year that GCSE students have been assessed under a new system of numerical grades, which has now been extended to include all English Baccalaureate (EBacc) subjects. A grade 9 represents the very highest achievement. A grade 4 is considered to be a 'standard pass' and a grade 5 is defined as a 'strong pass'.
The government's ambition is to see 90% of GCSE pupils choosing the EBacc subject combination by 2025, which includes:
English language and literature
maths
the sciences
geography or history; and
a language
Across Herefordshire, in English 78.6% of pupils achieved a grade 4 or better with 63.7% achieving grade 5; this is higher than the provisional national average. In mathematics, 71.8% of pupils gained a standard pass with over half of entries achieving the tougher 'strong pass' grade; this again surpassed the emerging national figure.
Councillor Elissa Swinglehurst, Herefordshire Council's Cabinet Member for Young People and Children's Wellbeing, said:
"I'm delighted that our GCSE students have followed the success of their A-level peers with another set of positive exam results for the county. Well done to all the students, parents and schools who have worked hard and achieved their best. The dedication and hard work of everyone has clearly paid off and I wish all our young people the best of luck in their chosen futures whether they decide on further education, training and apprenticeships or employment."