Herefordshire Council, in partnership with Balfour Beatty Living Places, has completed seven roadwork schemes along stretches of the A4103, A438 and A465, a total of three miles of road surfacing achieved in less than two weeks.
The works are part of an £8.5 million scheme which was possible after £5 million was secured from the Department for Transport's 'Local Highways Maintenance Challenge Fund' in August last year.
Two schemes on each of the A4103 and A465 roads have been completed, together with three schemes along the A438.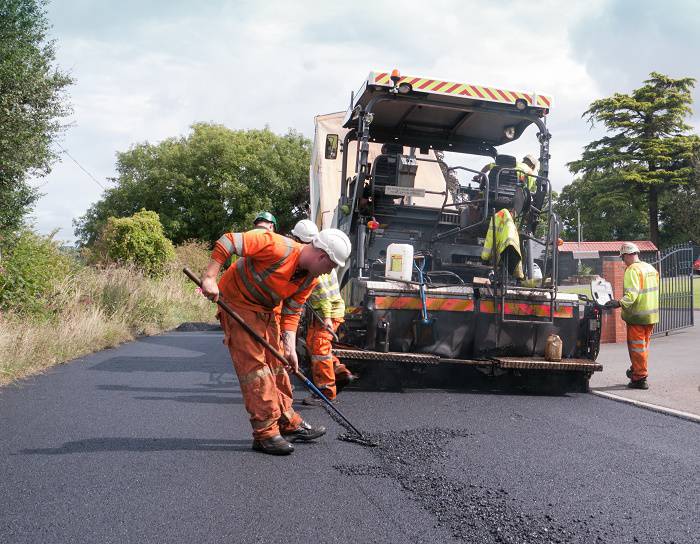 The Challenge Fund works will bring benefits of over £146 million to Herefordshire's economy by restoring 38.9 miles of key routes to good condition.
The Fund has allowed for the delivery of large-scale works involving the delivery of 5,448 tonnes of strengthening and surfacing materials to sites and resurfacing a total of three miles of roadway, an area equivalent to six average-sized football pitches.
The new high-quality surfaces will improve road safety with the new road material designed to last for at least 30 years, reducing future costs and disruption in these areas.
The Challenge Fund work forms part of an investment of more than £25m in the county's road and public spaces in 2018/19. Further Challenge Fund works along different stretches of the A438 and A4013 will take place next year.
Cllr Barry Durkin, cabinet member transport and regulatory services, said: "It was important that local residents, businesses and highway users were fully consulted in the planning of these essential works. I am confident that the planning of these works has helped with this early completion, and communities will be delighted to know that crews, working night shifts at some locations, managed to complete all works ahead of schedule.

"Such good progress was made that road closures on both the A438 and A4103 were lifted a day early. The Council and Balfour Beatty Living Places thank everyone affected with the inconvenience of roadworks for their patience and understanding."
Andy Williams, Balfour Beatty Living Places Regional Director, added: "We are delighted to have delivered this scheme of extensive highways improvements across three of Herefordshire's key A-roads, ahead of schedule.

"Along with our broader programme of highways works with the Council, they will have a positive impact on the health, wealth and wellbeing of all who live, work and travel in Herefordshire."
The schemes completed were:
Night works on the A465 (from the bottom of Aylestone Hill roundabout to 20 metres from the A465 Bromyard turn, (referred to locally as part of A4103)
Between the junctions on the A4103 from Lumber Lane to Withies Road turning into Withington
The A438 near Portway Inn to just before the junction with the B4230
The A438 from the B4230 junction to Byford
The A4103 between the Withies Road junction and the junction to Whitestone Business Park
Continuation of the A438 section from the B4230 junction to Byford
Night works on the A438 from Oakchurch to Portway Inn
Some additional line marking work will be completed this week but will not require any road closure.
Published: Tuesday, 21st August 2018