Royal visit to local organisations and businesses in the Ledbury area.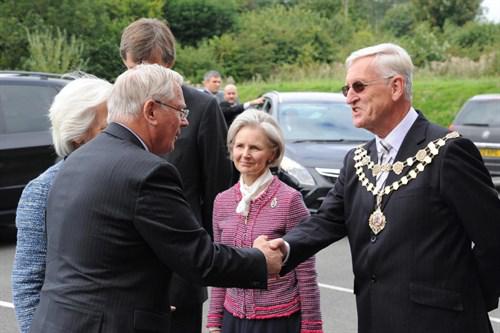 His Royal Highness The Duke of Gloucester will be in the county on Friday 17 February to visit local organisations and businesses in the Ledbury area.
The Duke will be met by the Mayor, Councillor Debbie Baker; he will then visit the Country Market with an opportunity to sample their wares to get a true taste of what is on offer in Herefordshire.
The Duke, who has an active interest in architecture and conservation, will then have a tour of the restored Master's House, meeting the Friends of the Master's House and representatives from Herefordshire Council who were instrumental in the restoration of the building as well as staff and visitors. He will have lunch in the panelled room, before a tour around Ledbury Town centre.
During the tour The Duke will then meet representatives of local organisations including the Royal British Legion, Army Cadets, Ledbury Places, to see the Barrett Browning Institute, Ledbury and District Society Trust, Ledbury Primary School and John Masefield High School, Local Councillors, Community Action Ledbury and Ledbury Rotary. There will be a number of the uniformed groups and youth sports present too.
The Duke will then move on to visit Salters Hill, which supports and provides opportunities for people with learning disabilities helping to increase their independence, confidence and wellbeing.
The final part of the day will be a visit to Bevisol, a local drinks manufacturer.
Brian Wilcox, Chairman of Herefordshire Council said:
"We are honoured that the Queen's cousin, The Duke of Gloucester, is returning to Herefordshire.

"Following The Duke's very successful visit to Bromyard in September 2015, it is marvellous that he is now coming to Ledbury to see some of the great things happening there - the County's market towns playing a major part in Herefordshire's success."