Residents in Herefordshire urged to check their voter registration details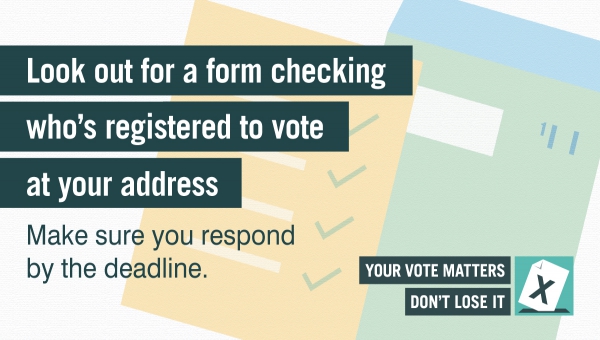 Local residents are being warned not to lose their voice on matters that affect them by completing their annual canvass form online as soon as possible.
With local elections taking place in Herefordshire on Thursday 2 May 2019, the annual canvass gives residents the chance to make sure their current details are on the electoral roll so they can take part and vote. Voters can also use this opportunity to sign up to postal voting, or to arrange a proxy vote if they are unable to vote in person.
Colette Maund, Electoral Services Manager at Herefordshire Council, said:
"The annual canvass is an opportunity for residents to make sure their current details are on the electoral register in time for the local elections in May 2019. It takes just minutes to check the details on the form are correct, and then to confirm online, by phone or text.

"If a resident is not registered to vote at their address, their name will not appear on the form – but they will still need to confirm this online. We believe around 7-8,000 people in Herefordshire are currently not registered to vote, and we would urge those people to make sure they don't lose their voice in next year's local elections."
People who have moved address recently are particularly encouraged to keep an eye out for the form and check the details. Research by the independent Electoral Commission indicates that recent home movers are far less likely to be registered than those that have lived at the same address for a long time. Across Great Britain, 94% of people who have been at their property for more than sixteen years will be registered, compared to 40% of people who have lived at an address for less than one year.
It is quick and easy for residents to confirm their details by text, phone or online at the elections page on the Herefordshire Council website.
Residents can register to vote online at the gov.uk website.
Published: Monday, 23rd July 2018