Pupils from Kingstone High School and Hereford Cathedral School meet the council Leader as part of National Democracy Week 2018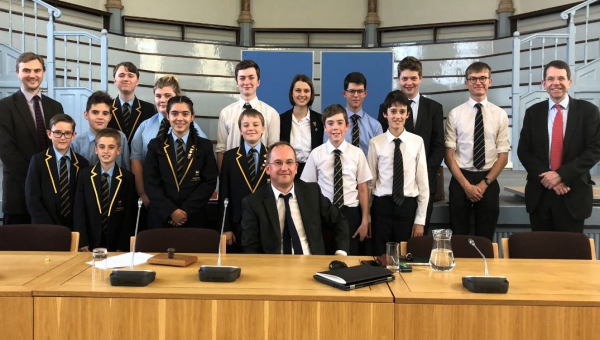 l-r: Dave Cook (Assistant Headteacher, Kingstone High School), pupils from Kingstone High School, pupils from Hereford Cathedral School, Mark Jackson (Head of Economics and Business and Director of Debating); front centre: Councillor Jonathan Lester (Leader, Herefordshire Council)
School Council members from Hereford Cathedral School and Kingstone High School were invited to meet the Leader of Herefordshire Council for 'Leader's Question Time' at Hereford Shire Hall (Thursday 5 July). The event was organised as part of the inaugural National Democracy Week 2018, launched to celebrate the 90th anniversary of the 1928 Equal Franchise Act which gave women the same voting rights as men.
During the #TalkDemocracy event in Shire Hall's council chambers, students learned about democracy and how they can take part in decision making in their community. Councillor Jonathan Lester then told pupils how his route to becoming Leader of Herefordshire Council started through his involvement with school councils, followed by becoming a parish councillor at the age of 24, mayor and ward member, later becoming a cabinet member and, more recently, being elected Leader of Herefordshire Council in March 2018.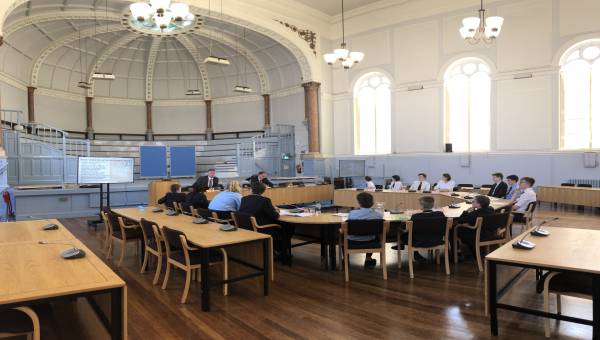 Students then took part in a 'Leader's Question Time' – and they didn't hold back in their questioning! Pupils asked how the council can engage more with young people, as well as raising important local issues, such as the impending bypass decision and demand for housing.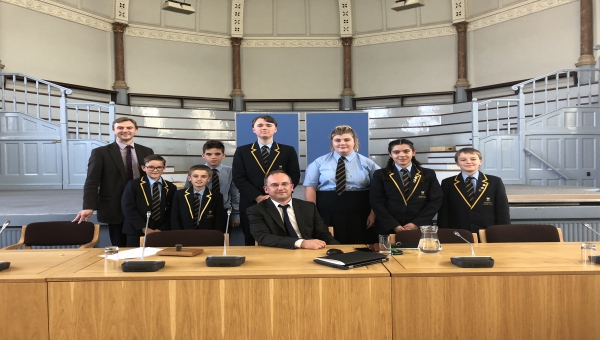 Kingstone High School and Councillor Jonathan Lester
Dave Cook, Assistant Headteacher at Kingstone High School, said:
"Leader's Question Time was a fantastic and inspiring opportunity for the Kingstone students, and a good chance for them to see the 'British values' they learn about in action. The experience brought home to the students the power of democracy and the importance of understanding how local government works."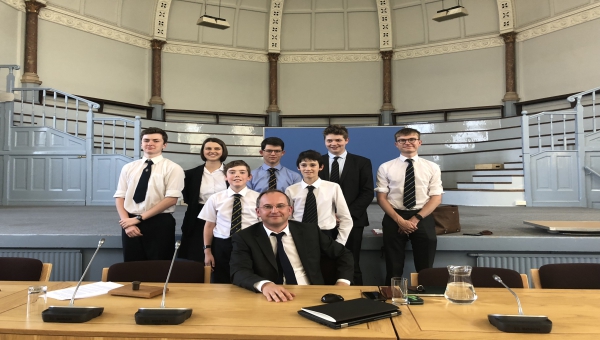 Hereford Cathedral School and Councillor Jonathan Lester
Mark Jackson, Head of Economics and Business and Director of Debating at Hereford Cathedral School said:
"This was a great experience for our students, and we are hoping to return to Shire Hall in the new school year to see how local decision making happens at a Cabinet meeting."
Councillor Jonathan Lester valued the opportunity to meet the school council members:
"I have met some brilliant, switched on students with a great appreciation for Herefordshire and the issues that affect the county. The pupils have experienced decision making at their own school councils, so this event was a great opportunity to see how democratic processes work at a county level."
A healthy democracy depends upon active citizenship – to get involved in local decision making that affects your community, visit www.herefordshire.gov.uk/getinvolved