The Reading Agency and Herefordshire Libraries present the Mischief Makers, Summer Reading Challenge 2018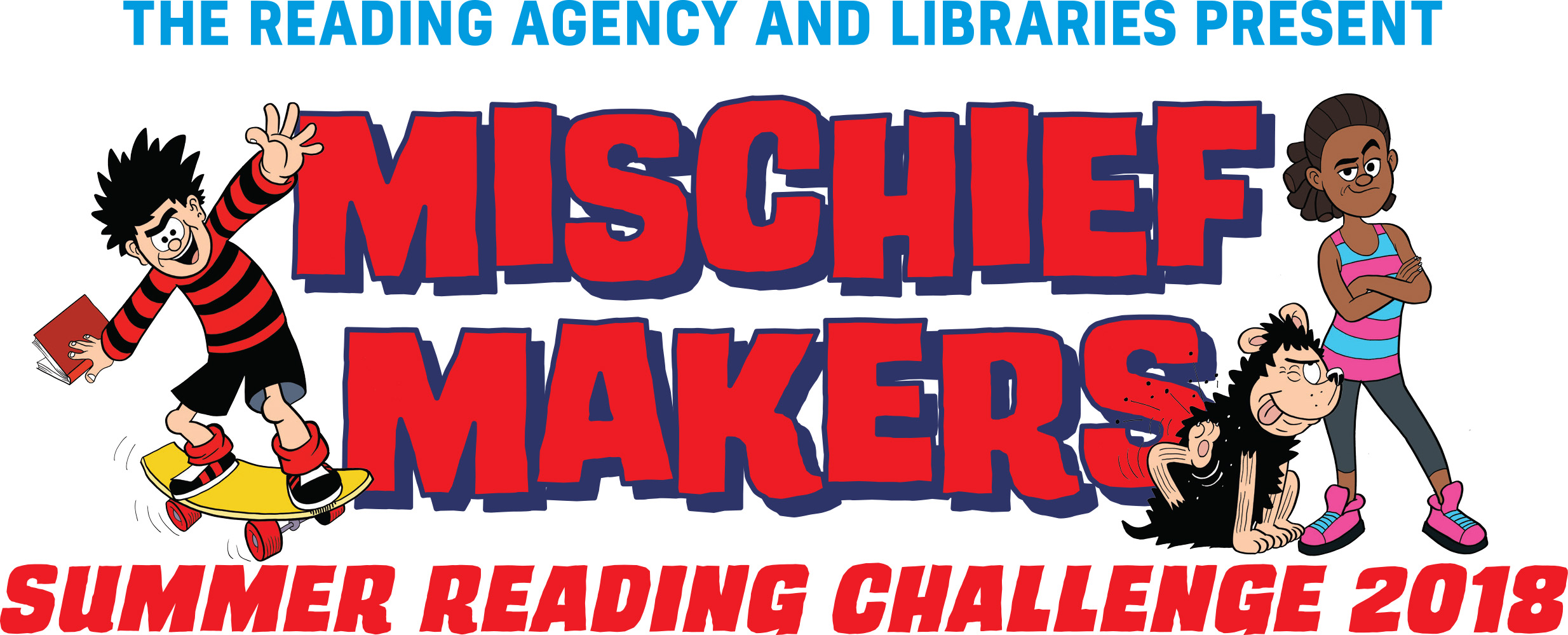 Herefordshire Libraries are calling for all Mischief Makers to join Dennis and Gnasher for this year's Summer Reading Challenge, to celebrate a summer of adventure, friendship, reading and fun!
The Mischief Makers Summer Reading Challenge 2018 is inspired by the much-loved children's title The Beano, which celebrates its 80th anniversary this year. The reading challenge will kick off for all children aged 4 – 11 on Saturday 14 July.
Children's reading can 'dip' over the summer if they don't have access to books and encouragement to read for pleasure, and this can have a negative impact on their work once they return to school. The aim of the Summer Reading Challenge is for children to read at least 6 books over the summer holidays. As an extra incentive, they will receive special stickers for every book they read to complete their collector Beano poster – a fantastic memento of their Summer Reading Challenge journey.
All of the libraries across Herefordshire are taking part in this year's reading challenge, with plenty to keep the kids entertained over the summer. All families need to do is visit their local library - entry is free and you don't need to be a library member to join in!
Free illustrator workshop - local illustrator Iain Welch will visit Hereford Library to mark the launch of the Summer Reading Challenge. Children can learn tips and skills to create their own larger than life cartoon character. Drop-in between 10am and 1pm on Saturday 14 July.
Exclusive kit bags - full of mischievous goodies – are available to the first children who sign up to the Summer Reading Challenge on Saturday 14 July.
Art competition - 'Create your own Mischief Maker'. There's a bumper pack of art materials up for grabs to the winner, with paper and drawing materials available at each library so everyone can take part.
Beanotown treasure hunt - children meet Dennis, Gnasher and friends along the way as they search for the mysterious buried treasure! Successful hunters can enter a prize draw to win a giant craft box
The 'Create your own Mischief Maker' art competition is open until Saturday 8 September – all artwork will be displayed across the Herefordshire libraries, and the winner will be announced in October.
For more information about the Summer Reading Challenge, and to find your nearest library, visit www.herefordshire.gov.uk/libraries