Herefordshire Council's broadband delivery project, Fastershire, has won the top prize at the national Connected Britain awards in London.
The Connected Britain Awards aim to recognise the innovation and achievement of those companies who are at the forefront of Britain's digital transformation.
The project took the night's top prize, the Superfast award, beating other Broadband Delivery UK (BDUK) initiatives, Digital Scotland, Connecting Cambridgeshire and Superfast Dorset, but also a number of high profile private companies.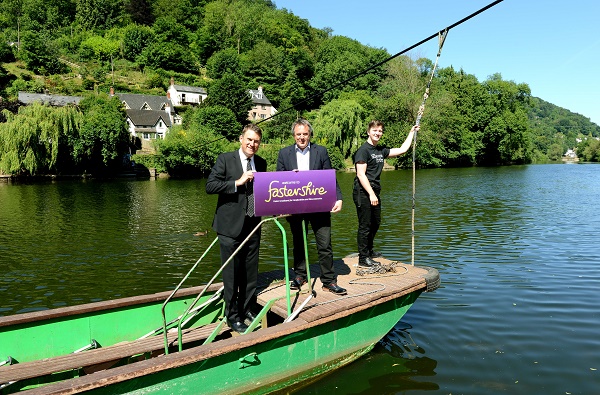 Fastershire is the broadband delivery project jointly created with Gloucestershire County Council, to provide access to faster broadband in areas of commercial market failure.
Over 85% of the county's homes and businesses are now able to access superfast broadband speeds, compared to only 0.6% of properties in 2012, according to the figures issued by Think Broadband, the UK's largest independent broadband information website.
Phase 2 of the project's rollout has already started in some areas of the county and will increase superfast coverage to 98% over the next two years.
In particular though, the award recognised the progress made in the county towards full fibre provision. The county already boasts three times the national average full fibre connections and by 2020, over half of all rural broadband connections in Herefordshire will be fibre to the premise. This will make it one of the best connected places in the UK.
Councillor David Harlow, Herefordshire Council cabinet member for economy and communication, said, "We're immensely proud that Fastershire has received national recognition as so much has already been achieved.

I appreciate that for those residents waiting for phase 2 to start in their area that this award may not come as any comfort. However, this award demonstrates that broadband coverage is a national issue and importantly provides industry acknowledgement of Fastershire and the Council's proactive response compared to others areas."
Phase 2 of the Fastershire rollout sees BT continuing to deliver for Fastershire in Hereford, while in rural areas Gigaclear will build a new full fibre network and provide access to ultrafast broadband.
For the remaining hardest to reach properties, Fastershire is using a mix of solutions, including bespoke grants to local businesses, and the soon to be announced significant property clusters as well as possible contract extensions with BT and Gigaclear for any remaining properties.
To find out if your property can already access faster broadband or where your property sits in the Fastershire rollout, visit www.fastershire.com and use the address checker.
Published: Thursday, 28th June 2018