To mark the start of Armed Forces week, Herefordshire residents and visitors will be able to watch the raising of the Armed Forces Flag in High Town, Hereford on Monday 25 June at 11am.
This year there will be performances by children from three local primary schools as well as representations from the Armed Forces and the Royal British Legion.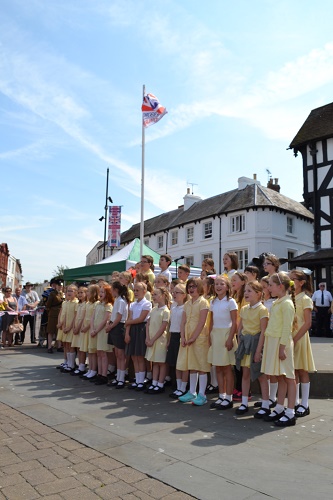 Leominster is privileged to be hosting Armed Forces Day this year on Saturday 30 June. There is a whole host of events taking place, beginning on Monday 25 June with a flag raising ceremony and signing of the military covenant, followed by daily activities leading up to a packed day of events on the Saturday. From 10am – 5pm events will include an RBL parade, stalls, fly over by a Lancaster bomber, guided trails, displays and much more.
One of the many highlights will be a charity concert at the Priority Church, Leominster, on Friday 29 June at 7pm.The concert will feature the Marches Military Wives Choir, The Three Tenders, Keri Hoffman, Leominster Community Choir and The Herefordshire Junior Youth Choir. More information can be found in the poster attached.
Chairman of the Council, Cllr Brian Wilcox said: "During this centenary year commemorating the end of the First World War, Armed Forces Day is even more important as we recall the selfless and courageous service of all our Armed Services and especially those who laid down their lives defending our freedom."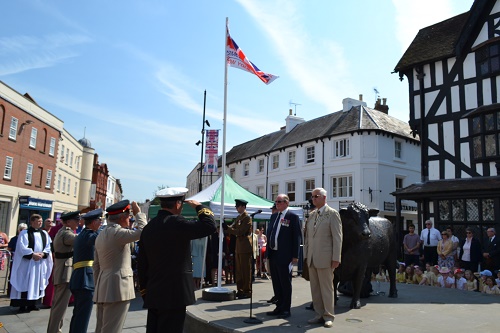 For more detail on what is happening on Armed Forces Day in Herefordshire please visit www.facebook.com/HerefordshireAFD
Armed Forces Day aims to raise public awareness of the contribution made to our country by those who serve and have served in Her Majesty's Armed Forces, and give everyone an opportunity to show their support for the men and women who make up the Armed Forces community - from currently serving troops to Service families and from veterans to cadets.
For more information on Herefordshire Council's information and support available for armed forces personnel and families please visit www.herefordshire.gov.uk/armedforces