Campaign launched today to promote responsible dog ownership.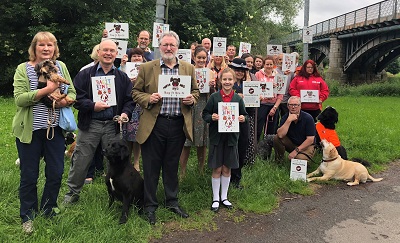 A new campaign aiming to tackle the problem of dog mess has been launched today (8 June) by Herefordshire Council and its community partners.
A range of council representatives and its community partners including schools, vets, pet owners, Hereford Community Clean Up group and West Mercia Police, gathered on Great Western Way, Hereford, to mark the launch of the campaign, with the aim of encouraging owners to pick up after their dogs.
A new Public Space Protection Order for dog control came into effect in March 2018. Council enforcement officers travel to locations throughout the county taking action against the minority of dog owners who do not keep their dogs under control or clean up after their pets.
And people can now report dog mess themselves via the Herefordshire Council website. By providing as much information as possible, this will help us focus Enforcement appropriately, targeting problem areas.
The most remarkable feature of the new campaign is the brand new signage to encourage owners to clean up after their dogs, which features illustrations designed by pupils of Holmer School.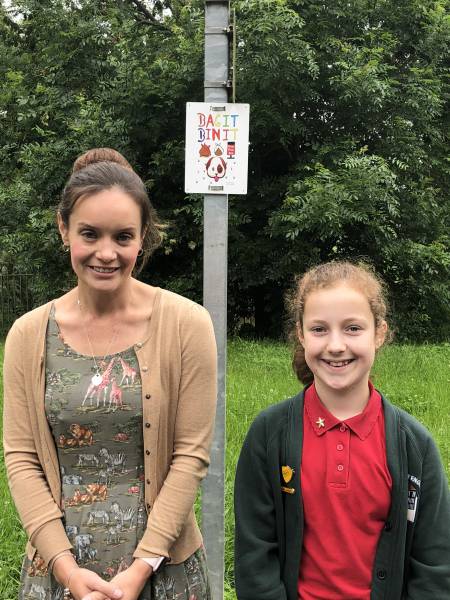 Competition winner Kaya Hilsden, and Anna Keating from Holmer School
Cllr Barry Durkin, Cabinet Member for Transport and Regulatory Services, said: "We are delighted to announce the launch of our new Bag it, Bin it campaign this week. We have been working in partnership with our local communities, including schools, vets, dog trainers, pet owners, anti-littering groups and West Mercia Police, in order to highlight the issue of dog mess and the measures the council has introduced to help tackle it.

"Our brand new signage should encourage those owners who do not, to clean up after their dogs. The signage features wonderful illustrations designed by Kaja Hilsden and Mason Stephens, pupils of Holmer school. We hope this launch will encourage residents to make use of our new online link which allows anyone to report dog fouling via the Herefordshire Council website. By providing details such as descriptions and locations, people can help us target Enforcement appropriately, targeting problem areas and eliminating as much dog mess as possible from our streets, lanes and green spaces."

"Cleaning up after your dog is just one part of being a responsible owner, and we have a campaign planned to extend throughout summer and beyond to champion responsible dog ownership across Herefordshire."
Bag it, Bin it is just one element of Herefordshire Council's wider campaign to encourage responsible dog ownership, including:
Getting dogs and other pets microchipped
Making sure dogs have a collar and ID tag
Keeping dogs on a lead in public places
Ensure dogs and other pets have regular check-ups with a vet
Addressing noise pollution by minimising dog barking
Hereford marks the beginning of the campaign, but it will be rolled out to other communities across the county in the coming weeks.
Bag it, Bin it is part of Herefordshire Council's Stop the Drop campaign - a council drive to keep Herefordshire litter-free, clean and beautiful.
Watch Herefordshire Council's video for Bag it, Bin it.