At the annual Council meeting today, Herefordshire Council Chairman, Cllr Brian Wilcox, commended Herefordshire residents for what has been a hugely successful year of community involvement.
He thanked Hereford Cathedral for working in partnership with Herefordshire Council to host the Poppies: Weeping Window, which attracted 196,000 people to the city and significantly increased trade, with some businesses reporting up to 25% increase.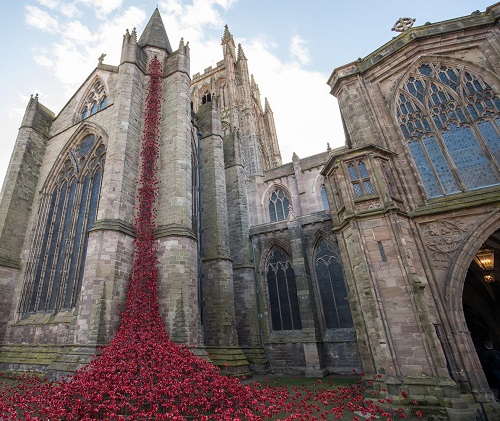 14-18 NOW Poppies: Weeping Window, Hereford Cathedral © Matt Cardy, Getty Images
Over the past twelve months, charities and businesses across the county have welcomed a number of Royal Visitors including The Duchess of Cornwall, The Duchess of Gloucester, Prince William, Countess of Wessex, The Duke of Gloucester & Princess Alexandra.
Cllr Wilcox also paid tribute to the hundreds of volunteers across the county, some of whom were nominated for the Community Champions awards, which received more applications than ever.
"Herefordshire has a strong and vibrant sense of community and this was demonstrated through by the fantastic work done by the winners of the Community Champion awards."

"The Community Champions winners ranged from a dedicated Samaritan of a quarter of a century, to the Strong Mind Champions who help children with mental health problems. There was the Hereford Community Clean-up Group that has grown to over a thousand people, and a Bromyard senior citizen who gets involved with every community event in the town. Then we had two volunteers who have spent many hundreds of hours in bringing a dream to a reality with the first new university in England for 25 years due to open its doors this autumn."

My thanks go to, not only the Community Champion award winners, but all the individuals and groups who contribute so much to our communities."
Published: Friday, 25th May 2018