Safety work will protect river traffic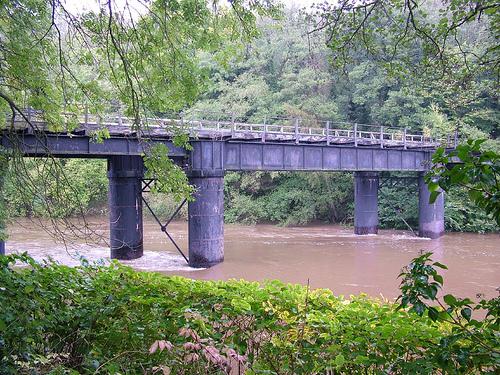 Herefordshire Council is working with Gloucestershire County Council to ensure the long term sustainability of Lydbrook Bridge.
Built in 1875 Lydbrook Rail Bridge (known locally as Stowfield Viaduct or the Black Bridge) is a former railway structure which spans the River Wye. The rail line was closed in 1964 and the bridge deck was refurbished to form a walkway. The bridge was closed in 2016 due to safety concerns.
Bridge work will begin on Monday 4 June to make sure that river traffic and walkers continue to be safe when passing underneath.
So that the work can be carried out safely more than 1000 pieces of scaffolding, and 1000 scaffolding boards, will be put up first which should take about five weeks.
Next, all the timber parts of the bridge, and the parapets, will be removed along with any loose parts which could fall onto the footpath or into the river. The waste from the bridge will be recycled.
The columns, main beams and the transverse beams will remain in place.
Whilst the scaffolding is being erected and removed, buoys will be used to safely direct boats and other river users under the bridge.
Pedestrians on the Herefordshire side of the riverbank will not be able to walk under the bridge and will be guided around with a short diversion.
Construction vehicles will be accessing the bridge from the Gloucestershire side via the yellow access gate next to Lydbrook Football club. Walkers are asked to be mindful of the increased number of vehicles using this track.
The safety work is expected to continue until October.
Councillor Vernon Smith, cabinet member for highways said:
"This is essential safety work for Lydbrook Bridge. By removing some of the loose steel, timber and wrought iron we can make sure that boats and other traffic using the River Wye can continue to pass under the bridge safely."
Councillor Terry Hale, local county councillor for Drybrook and Lydbrook said:
"It's important that we make sure people remain safe when travelling along the river so we're getting this work done over the summer. A small diversion will be in place for water traffic and walkers along the riverbank."
Councillor Barry Durkin, Herefordshire Council's cabinet member for transport and roads, said:
"We would like to thank residents and visitors to Lydbrook for their patience as the making safe phase of the repair work begins. The short diversion will ensure that all visitors remain safe as they come to enjoy the area over the summer."
Once the work is complete, there will be a risk-free passage under the bridge for water traffic and walkers however the bridge itself will still not be accessible on foot.
An application has been submitted to the Heritage Lottery Fund for a scheme that will allow the bridge to reopen as a walkway.
As the work progresses, updates will be available on the Lydbrook Bridge webpage.