Herefordshire Council's First World War campaign a great success following funding from the Heritage Lottery Fund
Over 8,500 people visited the council's Home Front Herefordshire campaign, thanks to a significant contribution from the Heritage Lottery Fund.
Thanks to National Lottery players, Herefordshire Council was privileged to receive a grant of £10,000 to host the unique Home Front Herefordshire campaign, which ran from 14 March to 29 April 2018, to commemorate the county's significant contribution to the war effort during the First World War.
The brave young men who joined the Herefordshire Regiment, which landed in Suvla Bay, Gallipoli in August 1915, before transferring to the Western Front in 1918. Among them was Allan Leonard Lewis, the only Herefordshire born recipient of the Victoria Cross, who was killed in September 1918 aged 23. The Victoria Cross was presented to his parents by His Majesty King George V at Buckingham Palace in April 1919.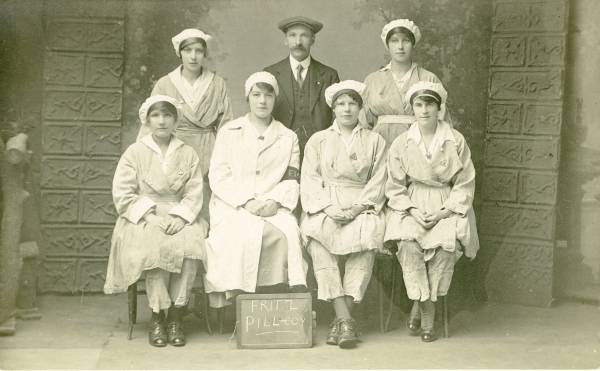 World War 1 Rotherwas munitions workers, also known as 'The Canary Girls'. (c) www.herefordshirehistory.org.uk
The Canary Girls worked at the Rotherwas Munitions Factory, which employed thousands of women from the county and beyond. The factory began filling shells on 11 November 1916 and by the end of the war, exactly two years later, was producing over 70,000 shells a week. The county also provided horses for the front, known as 'remounts', as well as food for the nation and the front from farms across Herefordshire.
Over 500 people attended 22 Home Front events, such as talks on medical care at the front and the history of the Herefordshire Regiment, while over 8,500 people visited the unique and interesting exhibitions and activities across the city centre, including at Hereford Library, the Black and White House Museum, Hereford Museum and Art Gallery and Hereford Cathedral.

The campaign also welcomed over 1,000 school children from across the county, who took part in different First World War themed activities and workshops.

Councillor David Harlow, Herefordshire Council's Cabinet member for Economy and Communications, said:
"The council was pleased to have received such a significant contribution from the Heritage Lottery Fund, as without this funding, we wouldn't have been able to share the county's unique First World War heritage with so many people.

"I'm delighted that over 8,500 people visited the city and experienced the different exhibitions and activities, which clearly demonstrates that this is still a topic close to people's hearts across the county and beyond."
Vanessa Harbar, Head of HLF West Midlands, said
"The impact of the First World War was far reaching, touching and shaping every corner of the UK and beyond. Thanks to National Lottery players, HLF has already invested more than £94 million to more than 1,900 projects – large and small - that are marking this global Centenary.

"With our small grants programme, we are enabling even more communities like those involved in 'Sharing Herefordshire's WW1 Heritage' to explore the continuing legacy of this conflict and help local young people in particular to broaden their understanding of how it has shaped our modern world."