Hereford's Black and White House Museum is to host an exhibition by a local artist blacksmith.
As an Artist Blacksmith, Bladesmith, Historian and Demonstrator, there is never a quiet moment in the forge of Thomas Beynon Timbrell. His real passion comes from researching and producing historical items as accurately as possible and finds nothing more satisfying than holding an item in the 21st Century and knowing it would have felt perfectly at home in the hands of our ancient ancestors.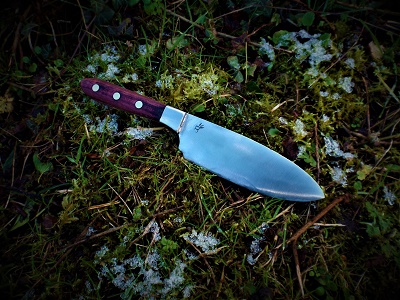 He instils this driving force into all his works, aiming to make them by traditional methods while using modern power tools as little as possible. As such, each item is hand forged and made with the care of a dedicated craftsman.
The exhibition will run until the end of July, and all items on display are available to purchase.
Thomas said: "I love sharing my research on blacksmithing and hope to expand peoples understanding of the craft- it's not all just about swords and horseshoes!"
Julia Radburn, Museum Supervisor, said: "We are very pleased to have a small exhibition of Thomas Timbrell's work in the Black and White House Museum, all of which is available to purchase."
For more information on Thomas Timbrell visit his website
For more information on the Black and White House Museum, visit Herefordshire Council's website
Published: Monday, 14th May 2018