Nearly 300 new jobs have been created at Hereford Enterprise Zone to date with £16m invested in building new businesses premises, it was revealed today.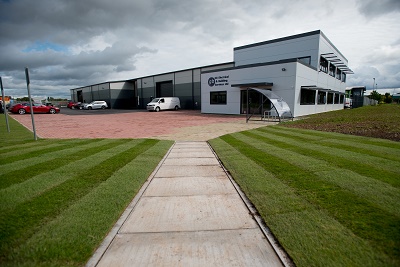 Skylon Park was designated by the Government as one of 48 Enterprise Zones designed to boost local growth and create jobs in 2012.
Construction started on the site at Rotherwas in autumn 2013, and five years on Skylon Park has welcomed 37 new companies.
Enterprise Zones were created by the Government to attract both new companies as well as high growth businesses looking to expand, offering simplified planning rules and super-fast broadband.
Investors at Skylon Park include businesses from outside of Herefordshire and those located within the county but which need further space to grow and create more jobs.
A spokesperson for Zone said: "Attracting and retaining these exciting, dynamic businesses, which includes the latest £5m investment creating 50 new jobs at KGD Engineering, is key to the ongoing success of Skylon Park.
"Last year saw the relocation of GB Electrical to the Zone, a move which ensured the company and its 170 staff remained in the city."
Speaking at the time of the investment, GB Electrical Managing Director Terry Pickering said: "We had vastly outgrown our former home and the Enterprise Zone was the ideal location for us.
"As a local business employing local people and sub contractors and, with an established supply chain, we were keen to stay in Hereford so we worked closely with the team at the Enterprise Zone to develop a footprint for the future that suits our business and underpins our plans for growth, which includes recruiting more staff."
Councillor David Harlow, Herefordshire Council Cabinet Member for Economy and Communications, said: "Since the launch of Skylon Park, 37 businesses have moved onto the site investing over £16 million in construction alone. The total Zone workforce of 635 includes 288 new jobs created by these businesses as part of their location and expansion on the Zone. Of these totals, 4 businesses have relocated from outside of Herefordshire, bringing more than 50 new jobs to the county.

"As well as promoting inward investment, supporting the growth and development of local businesses continues to be a hugely important part of this project, in order to encourage long term, sustainable benefit to Herefordshire's economy.

"We are pleased that many local companies have also been investing in their long term future within the county, along with the future of their employees, by basing themselves on the zone."
Currently being promoted on the Zone is a £105m development opportunity at two premier locations, Skylon North Magazine and Skylon South.
The North Magazine comprises 10 hectares and by early 2020 will be home to a £7m Business Incubation Centre including development space for businesses to interact with a new University being created in Hereford, specialising in engineering.
Skylon South comprises four hectares as a next phase development with immediate access onto the dedicated access road linking to the trunk road network. It will be adjoining a new £9m Centre dedicated to Cyber Security business and research, built by the University of Wolverhampton and due to be opened in late 2019.
Due to the proximity of the UK Special Forces base, QinetiQ at Malvern Science Park and GCHQ at Cheltenham, the area is known for its specialism in defence and security, and the Cyber Centre will add to that asset base.
Published: Thursday, 10th May 2018