Phase two of City Centre Improvements to begin on Monday 14 May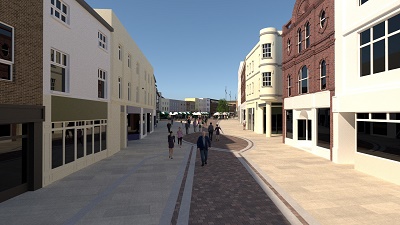 The second phase of work to upgrade Hereford City Centre will begin on Monday 14 May 2018 with the refurbishment of Commercial Street.
Balfour Beatty Living Places on behalf of Herefordshire Council will carry out refurbishment works on the Commercial Street area of High Town with neighbouring traders kept informed of progress throughout the works.
The work is the second phase of a refurbishment project that will be consistent with the look of Widemarsh Street and High Street.
Councillor Barry Durkin, cabinet member for highways and transport said:

"The project will upgrade Commercial Street and tie in with longer term plans to improve Commercial Road and Blueschool Street, which will enhance the city as an attractive and easily accessible destination for visitors and shoppers.

In future years we will see the whole High Town area upgraded, creating a consistent aesthetic with Widemarsh Street and Old Market."
The work will be phased to ensure minimal disruption to businesses and shoppers. All access to frontages will be maintained. Work will continue through 2018 with a break for the busy Christmas shopping period. The Commercial Street phase of the scheme will be completed in early 2019.
Published: Tuesday, 8th May 2018