A night of music to raise money for the Chairman's Charity, The Haven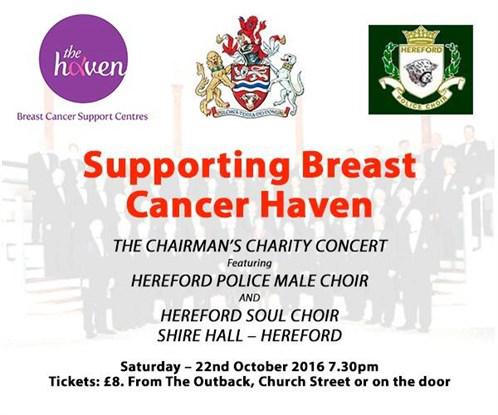 Cllr Brian Wilcox, Chairman of Herefordshire Council is hosting a charity concert of diverse styles with a night of music from the Hereford Police Male choir and the Hereford Soul choir, to raise money for the Chairman's Charity which this year which is supporting the work of The Haven. The concert takes place at Hereford's Shirehall on Saturday, October 22.
The Hereford Police Male Choir, which next year celebrates its 60th anniversary, continues the great tradition of male voice singing, taking its music to some of the greatest concert halls in the UK, including the Royal Albert Hall where they are regularly part of the London Welsh Festival of Male Voice Choirs.
The choir's repertoire extends from classic to pop, popular hymns to songs from the top West End shows and the Police Choir concerts have raised close on £1m for local charities
The Hereford Soul Choir, eestablished in 2011 by their Director Jenny Frost and mum of three small children. Hereford Soul Choir have rapidly gained a reputation for their vibrant vocals and fresh and funky harmonies. Their style, which encompasses Soul, Motown and Gospel, has an upbeat vibe and an infectious quality which is guaranteed to give any audience a dynamic performance.
The evening promises to offer something for everyone and a chance for the audience to be able to sample the delights of these two superb choirs in one evening.
Tickets are £8 available from The Outback, 19 Church St, Hereford, or on the door on the evening. The concert is from 7.30pm.
Published: Monday, 17th October 2016