Herefordshire Council and Hereford Cathedral are delighted to have welcomed so many visitors to the city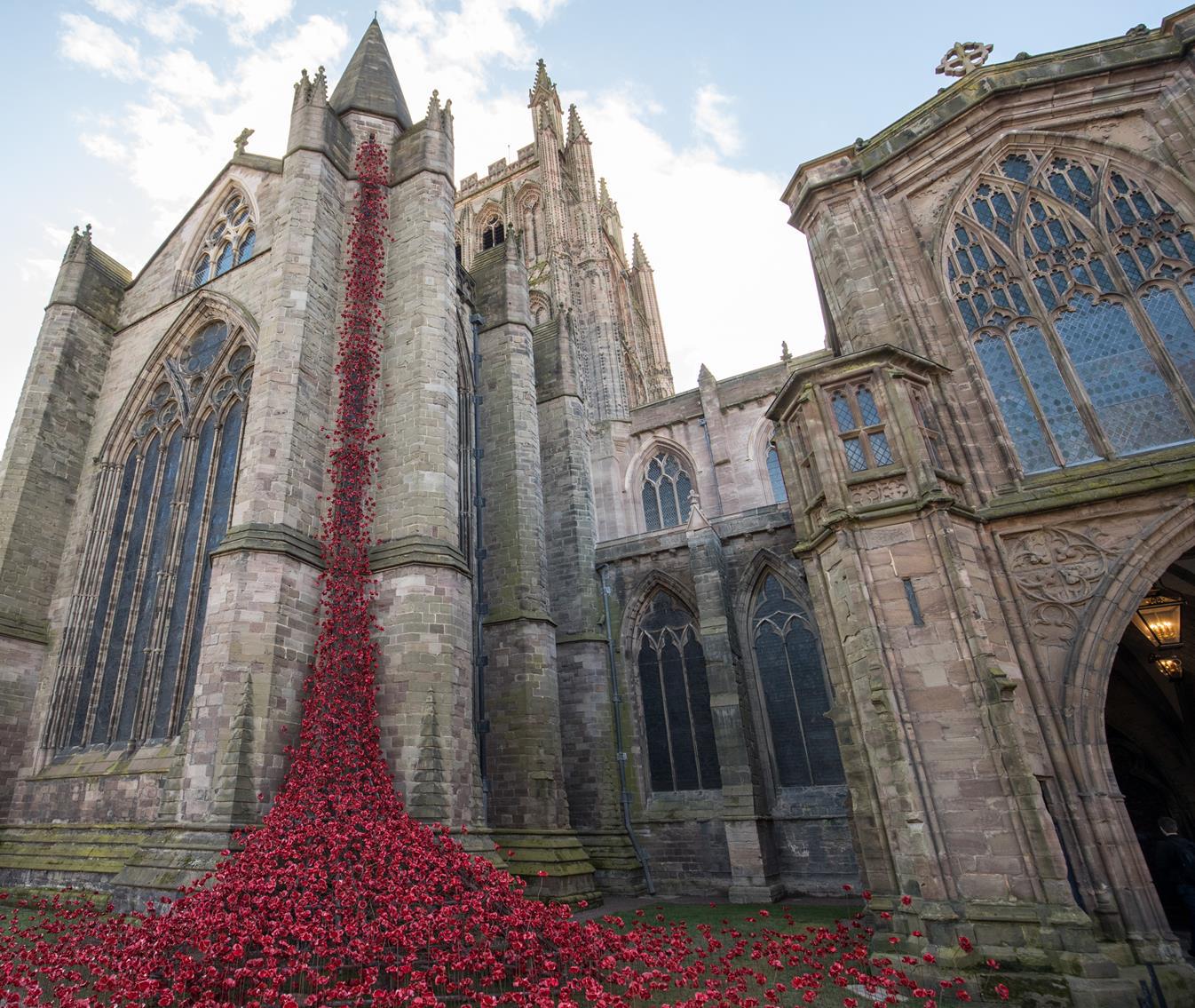 Over 196,000 people visited Poppies: Weeping Window, by artist Paul Cummins and designer Tom Piper, when it was displayed at Hereford Cathedral between 14 March and 29 April.
The sculpture came to Hereford Cathedral as part of 14-18 NOW's UK-wide tour of the iconic poppy sculptures Wave and Weeping Window, which have been seen by over 3.75 million people to date. The artwork is carefully being removed from the cathedral and will shortly be presented at Carlisle Castle from 23 May to 8 July.
Councillor David Harlow, Herefordshire Council's Cabinet member for Economy and Communications, said:
"It's sad to see Weeping Window leave, as it's been a wonderful addition to the county, but we're delighted that nearly 200,000 people have visited the city and experienced the artwork. It was a pleasure to work in partnership with Hereford Cathedral to bring such an iconic and unique sculpture to Herefordshire.

"It's difficult to assess the exact impact Weeping Window has had on our economy, but we know a number of local businesses have reported a significant increase in trade, some as much as 25%. I believe our local economy will continue to thrive, as more people visit and move to the county to enjoy our beautiful city, market towns and countryside; Herefordshire really does have so much to offer."
The Very Reverend Michael Tavinor, Dean of Hereford, said:
"The presence of Poppies: Weeping Window was an event of great significance to the cathedral and we were privileged to host it. Many thousands came to visit, young and old, from all over the country. Their reactions were as varied as the locations they travelled from, but a common experience seems to be one of remembrance, thanksgiving, regret and beauty and our wonderful volunteers (who were present in all weathers) engaged in many deep and profound conversations with our visitors.

"For us at the cathedral, the artwork appeared as an 'extension' of the building itself. It helped to bring so many elements of the Christian faith we experience inside the cathedral, those of love, faithfulness, peace, justice and hospitality, outside into Cathedral Close. It was a wonderful partnership between cathedral, council, 14-18 NOW and our generous supporters and volunteers. I believe what we have experienced as a community in the last six weeks', will live on in the lives of all who were part of this great and moving event. I'd like to express my warmest thanks to all."
Jenny Waldman, Director of 14-18 NOW, said:
"We are delighted that over 195,000 people experienced artist Paul Cummins and designer Tom Piper's powerful artwork at Hereford Cathedral. Wave and Weeping Window continue to inspire all who see them and give visitors the chance to reflect on the impact of the First World War."
Weeping Window is from the installation 'Blood Swept Lands and Seas of Red' – poppies and original concept by artist Paul Cummins and installation designed by Tom Piper – by Paul Cummins Ceramics Limited in conjunction with Historic Royal Palaces. The installation was originally at HM Tower of London from August to November 2014, where 888,246 poppies were displayed, one for every British or Colonial life lost at the Front during the First World War. Together, the sculptures Wave and Weeping Window are made of over 11,000 poppies.
For more information on the 2018 tour, visit www.1418now.org.uk/commissions/poppies.

Photo credit: 14-18 NOW Poppies: Weeping Window, Hereford Cathedral © Matt Cardy, Getty Images
Published: Wednesday, 2nd May 2018